---
G30 - DeWit Seed Bed Rake

Made of forged steel, the 9 super-heavy duty tines are spaced nearly 2" apart - perfect for ripping up and raking organic material out of old seed beds without pulling all the soil out too. Straight neck allows you to flip over and use the back to flatten bed. YOU WILL NEVER FIND A TOUGHER RAKE.
Head: 16.5" x 4"
Length: 74"
Weight: 4.4 lbs
$66.00
---
E50 - DeWit Raised Bed Builder

Originally designed as a horse stable scraper, this forged steel tool is great for pushing or pulling soil to hill crops or make raised beds - it is so tough, in fact, it is my favorite tool for gravel driveway maintenance!
Head: 4" x 12"
Length: 74"
Weight: 4.1 lbs
$47.00
---
DeWit "Eye" Style Hoes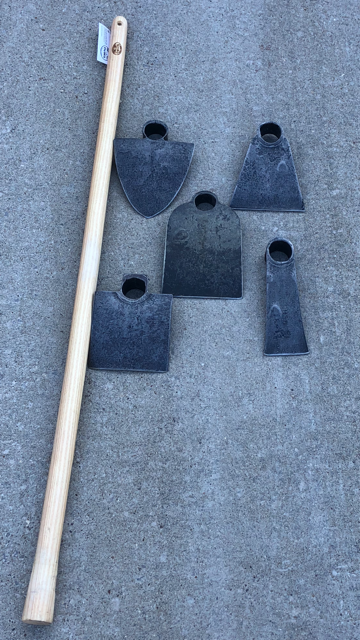 While the SHW company of Germany SPECIALIZES in this type of hoe, Dewit offers some too. All equipped with traditional "drop-in" type ash handle that inserts through the top of the head. Excellent quality Dutch forged steel. Replaceable handle, of course. 4 different head styles
31-3257 Chelsea Pointed Head: 6"wide
31-3255 Triangle Head: 6" wide
31-3253 Large Head: 6" wide
31-3254 Square Head: 5.5" wide

Length: 51"
Weight: 3.8lbs
$29.00 Limited Supply!
---