All DeWit tools are forged to a hardness of approximately 60 rockwell –incredibly tough. DeWit spades feature a more rounded cutting edge than the English or American spades; the radius helps slice through tough root material, crust, etc. with less effort. The wooden-handled Dutch digging tools we carry feature an open-socket (or strap-type) design for the handle attachment. This design lets the wood BREATHE and virtually eliminates dry-rotted handles snapping off just above the steel socket, a common occurrence with "solid socket" designs. Handles are secured with one or two forged pins driven through the handle front to back, locking the front and rear 'straps' together. Some tools feature typical European-style 'T' grip at the top of the handle, or some are now available with a more "Americanized" Y-D grip.
---
A45 DeWit Super-Duty Square-Mouth Shovel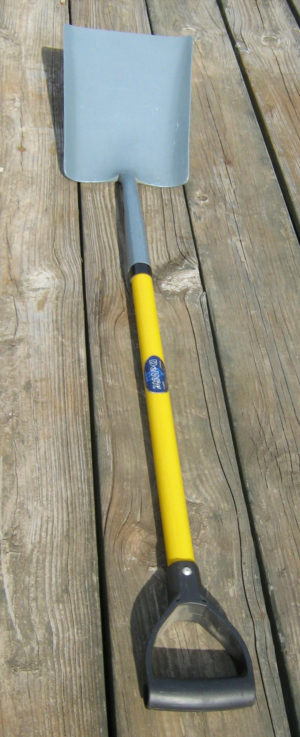 Featuring a solid-forged head and a fiberglass handle with D-grip, this tough shovel will last a lifetime of mixing concrete, scooping gravel, or whatever else you put it through. Limited Supply!
Head: 9.5" x 12"
Length: 50"
Weight: 7.8 lbs
$35.00
---