All DeWit tools are forged to a hardness of approximately 60 rockwell –incredibly tough. DeWit spades feature a more rounded cutting edge than the English or American spades; the radius helps slice through tough root material, crust, etc. with less effort. The wooden-handled Dutch digging tools we carry feature an open-socket (or strap-type) design for the handle attachment. This design lets the wood BREATHE and virtually eliminates dry-rotted handles snapping off just above the steel socket, a common occurrence with "solid socket" designs. Handles are secured with one or two forged pins driven through the handle front to back, locking the front and rear 'straps' together. Some tools feature typical European-style 'T' grip at the top of the handle, or some are now available with a more "Americanized" Y-D grip.
---
Super Duty Transplant Spade

Head: 5" x 14"
Length: 50"
Weight: 5.1 lbs
$65.00 (while they last)
---
A40 DeWit Transplant Spade with D-Handle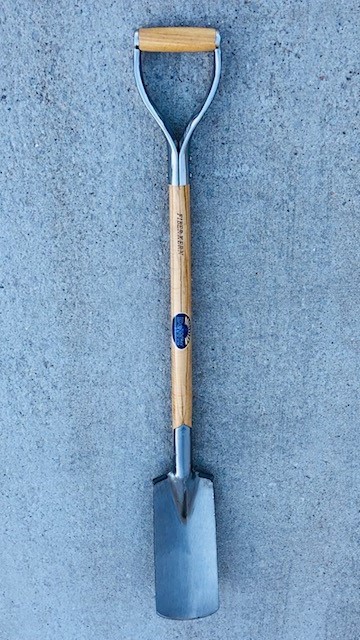 Narrow, long spade for deep holes. Longer handle than typical English tools, and better steel. Fiberglass-cored wooden handle with a "steel Y, wooden D" handle. (Note: some heads are painted black, some are unpainted)
Head: 5" x 13.5"
Length: 45.5"
Weight: 4.8 lbs
$60.00
---
A45 DeWit Super-Duty Square-Mouth Shovel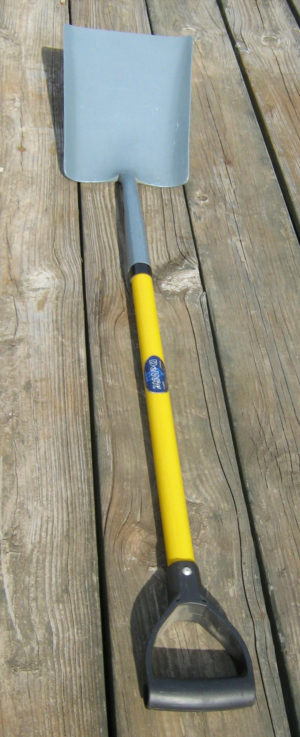 Featuring a solid-forged head and a fiberglass handle with D-grip, this tough shovel will last a lifetime of mixing concrete, scooping gravel, or whatever else you put it through. Limited Supply!
Head: 9.5" x 12"
Length: 50"
Weight: 7.8 lbs
$35.00
---
70-1055 - DeWit 'poacher' Spade

Very similar to the Transplant spade. This tool is from DeWit's 'Eurogarden' series, which are forged to a lower hardness rating (about 52 Rockwell rather than 60) - but are still MUCH better than 'hardware store' quality. Features a fiberglass handle with a 'Y/D' grip. An excellent value! I own one myself.
Head: 5" x 12"
Length: 51"
Weight: 4.5 lbs
$37.00 (while they last)
---
31-2037 Square Mouth Scoop Shovel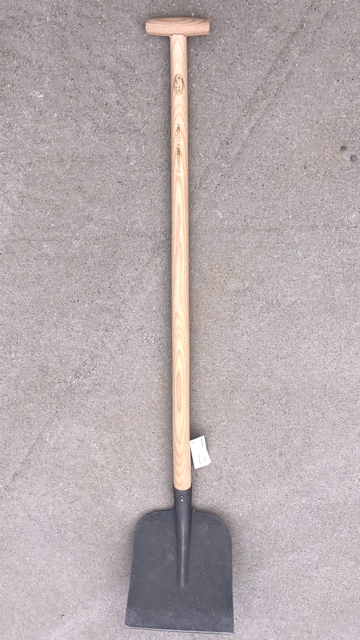 Forged head and an Ash handle with wooden D-grip. Nice and light; popular scooping shovel for women.
Head: 9.5" x 10"
Length: 51.5"
Weight: 3.8 lbs
$25.00 (limited availability)
---
76-0054 Root Cutter/Digging Bar
When you have stubborn roots to chop out of a hole or rocks to pry out of the way, this Dutch forged-steel bar will do it. Nice wide blade on the bottom, compared to the typical "spud" bar.
Blade: 3.75"wide, 3.5"tall
Length: 47"
Weight: 13 lbs
$20.00 (while they last)