Buck-Rake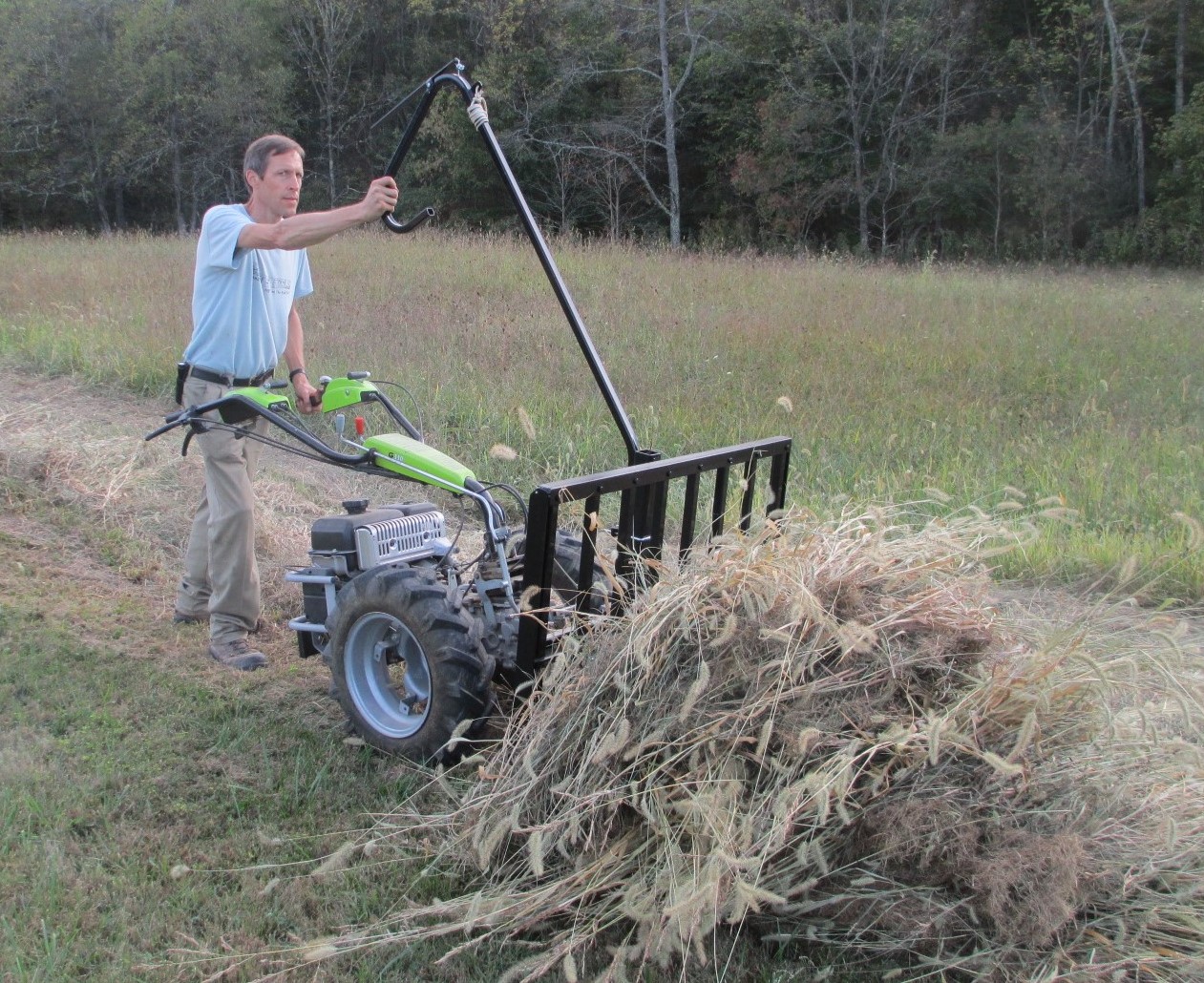 This actually belongs in the "Haymaking" implement section (and in fact it is duplicated there)…but since it scoops things up and carries them around, we figured it belonged in the "Material Handling" section also. Buck-Rakes have been used for years on larger tractors in Europe (and some in this country) for gathering loose hay in a field. One United-Kingdom-based company (Tracmaster) produces them to fit walk-behind tractors…so we figured we could do it too!
There is a handle that extends back over the tractor, and this serves 2 functions: it allows for instant "attack-angle" adjustments with a lever-operated release system, and it also allows the operator to "lean" into the lever a bit to keep the rake tines firmly on the ground when operating on bumpy terrain (otherwise, you'd have to pull UP on the tractor handlebars to keep the rake tines pressed down…that will wear you out FAST!). Our Buck-Rake also features steel tines that are individually replaceable in just a few seconds, in case you should bend one badly enough to need replacement.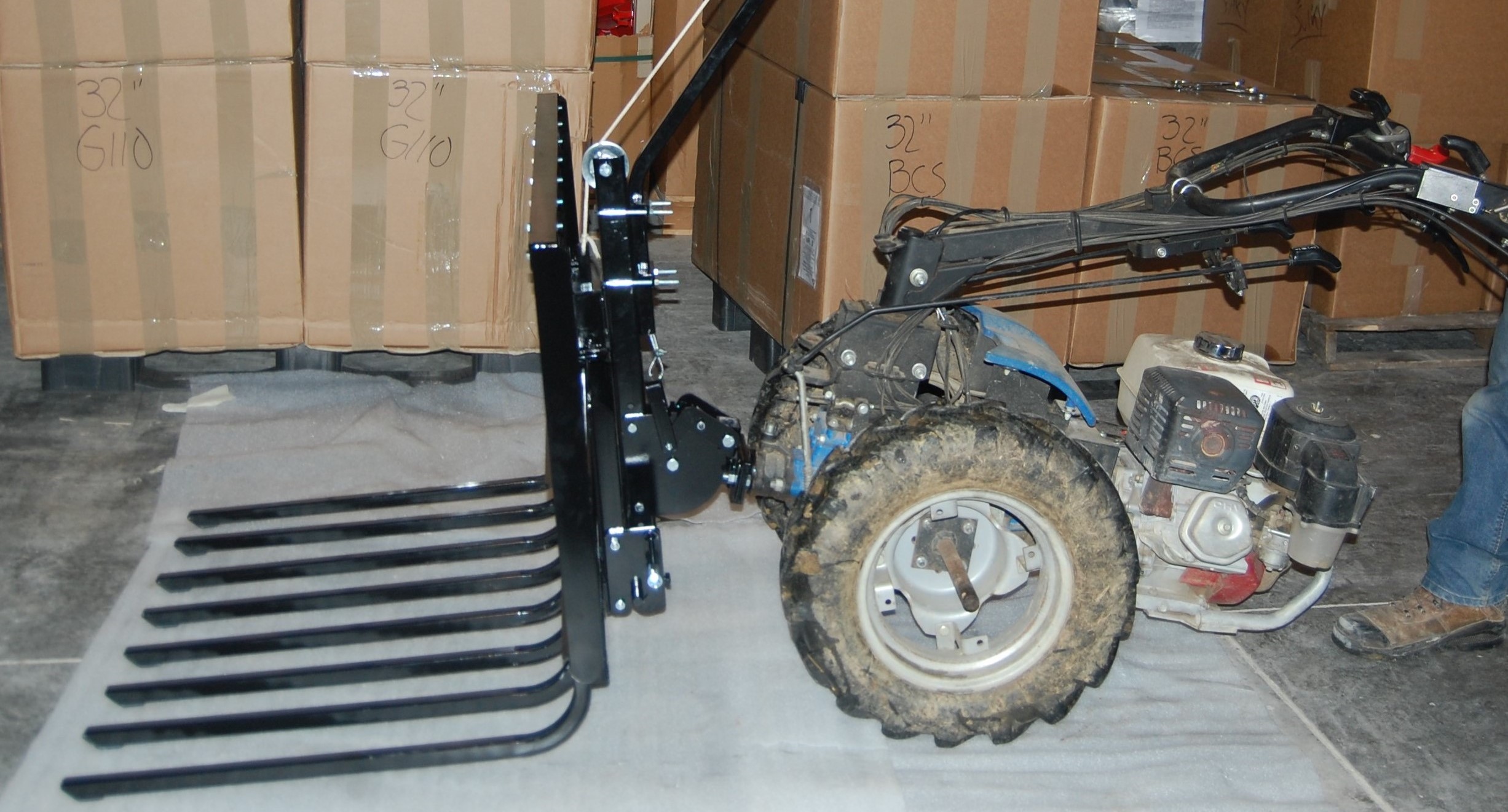 Rake "canted" forward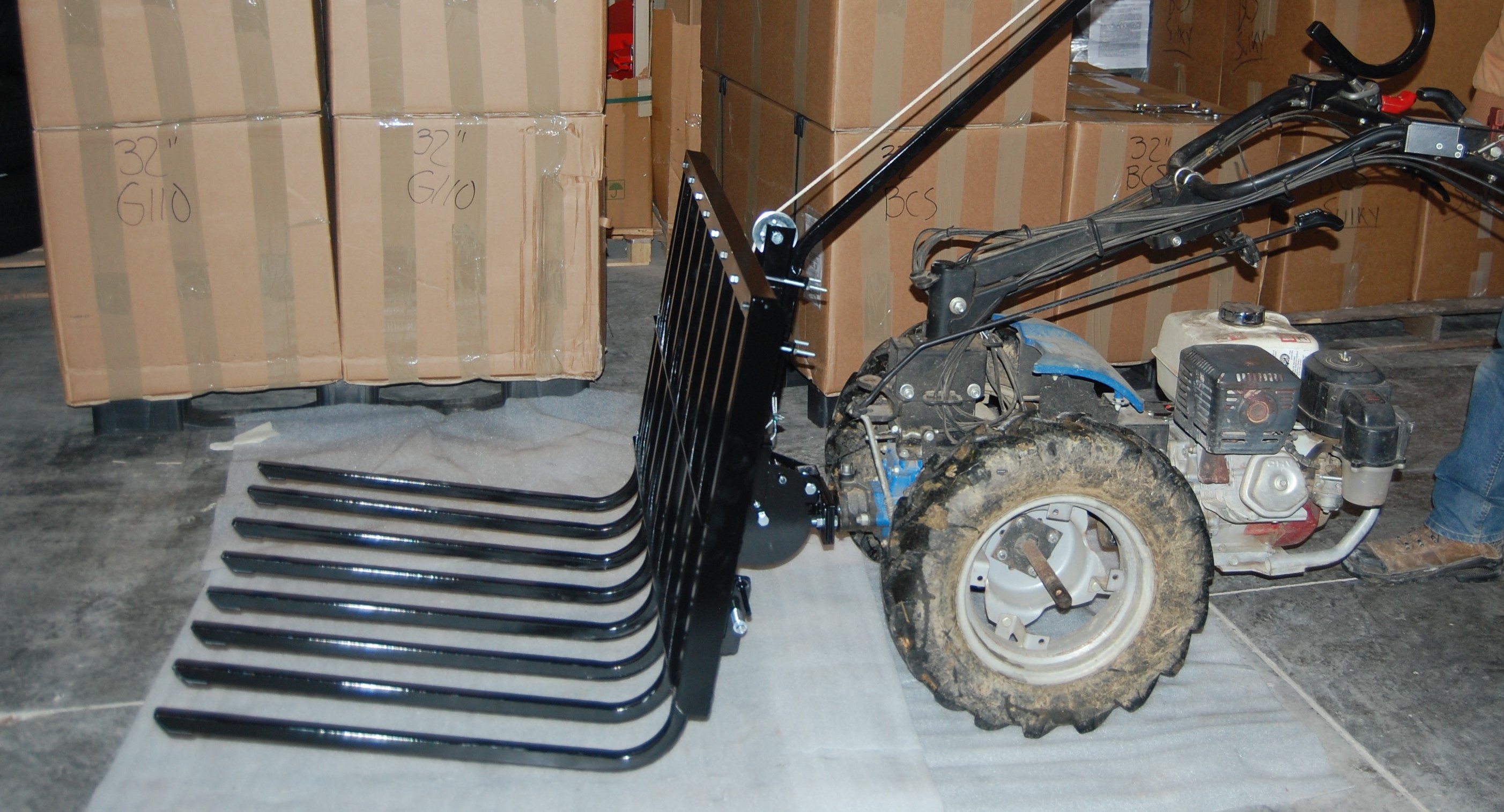 Rake "canted" backward
If your tractor uses a Quick-Coupling to change implements, we offer "blank" male couplings (that do not have a PTO shaft in them, since this is a non-PTO-driven implement)…upon installing, this "blank" "male" coupling can be oriented 2 ways: With either a "slot" or a "hole" UP for the locking-pin of the quick-coupling…this allows the rake to either have some rotational "float" (slot) OR be "rigid" (hole) with the body of the tractor.
This implement ships by motor-truck freight; assembly required.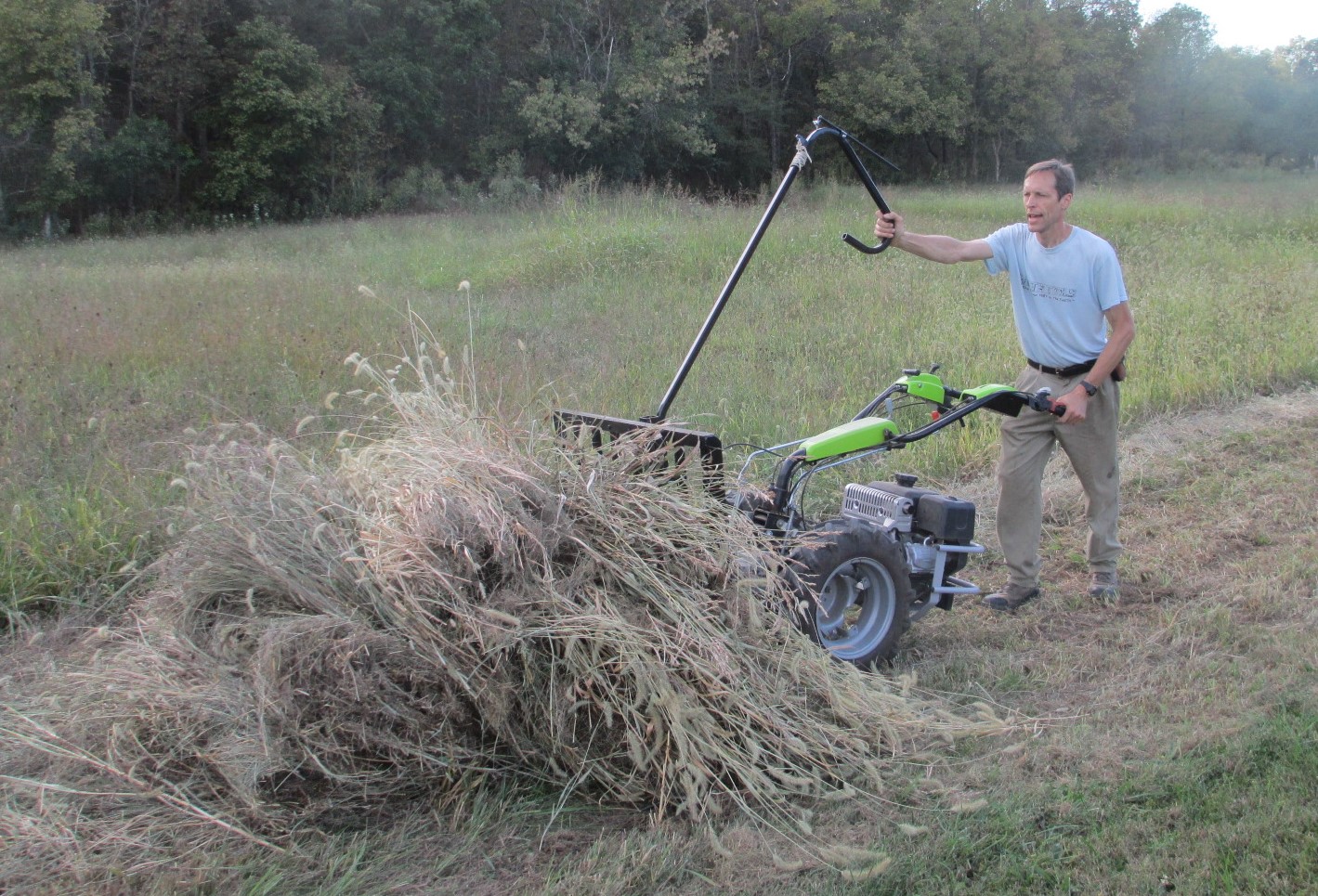 Buck-Rake in action --leaning a bit on top handle
helps keep tines firmly on ground in bumpy terrain.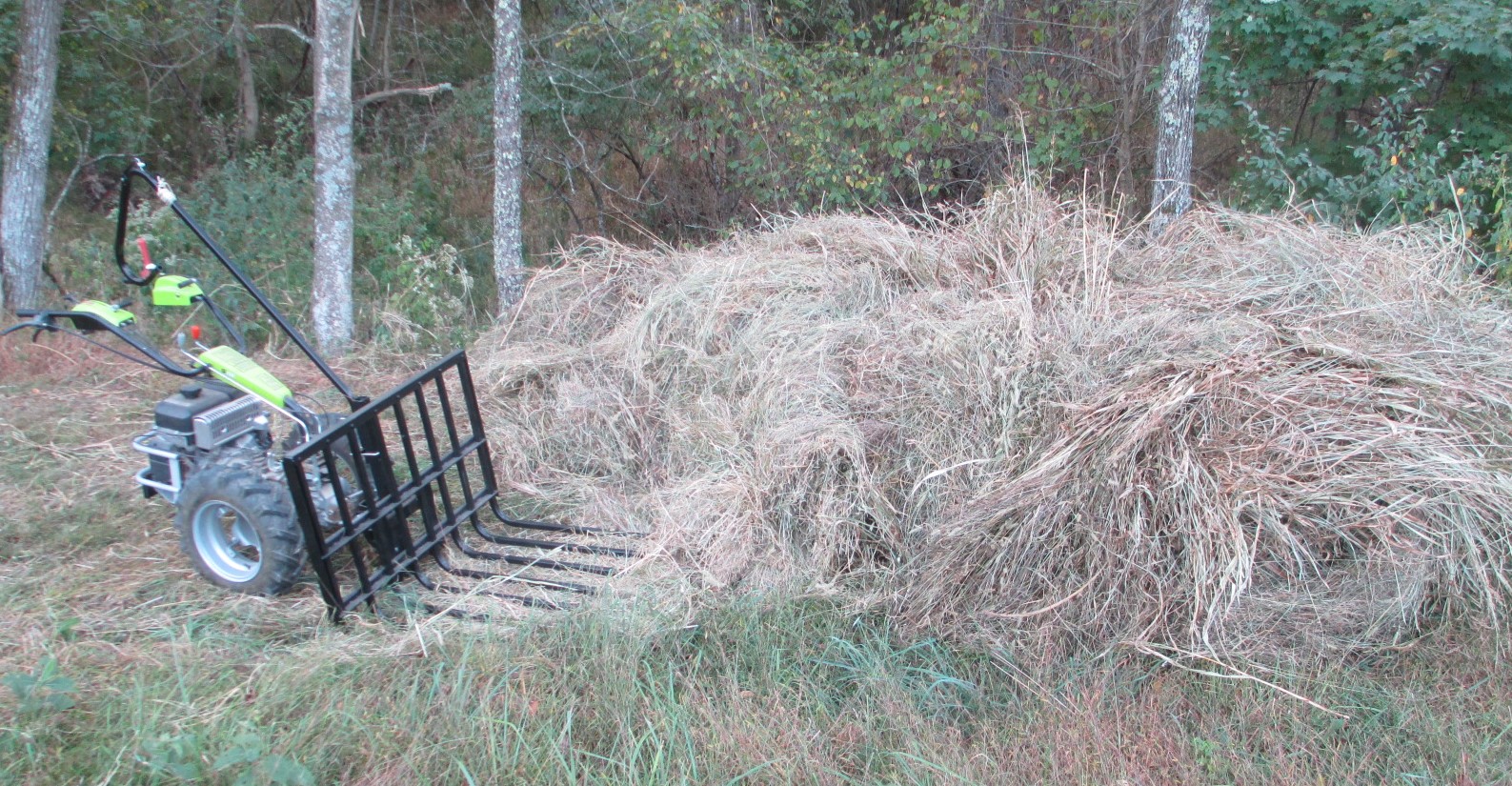 Less than one hour's work
---
---
Item ET BUCK-RAKE - MSRP: $975 $925
Fits BCS or Grillo walk-behind tractors with differential-axle; Minimum recommended tractor wheel size 4x10x18"
Special-Order optional "Scoop-Bucket" to fit Buck-Rake Frame: $375
Will require "blank" Male quick-coupling if tractor equipped with quick-coupling system (item numbers vary according to tractor type): $40 to $45
(NOTE: Requires additional accessories to fit BCS 660, 750, 948 or Grillo G131)