From Splitting Mauls to Shovels, the German company SHW offers excellent design and unparalleled quality steel.

---
SHW Hatchets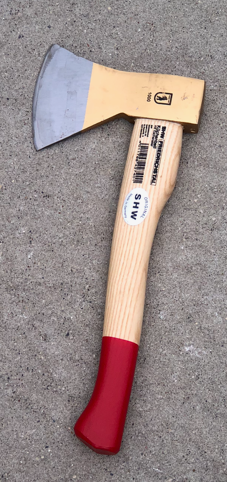 German forged steel head, Ash handle, and a nice broad cutting edge. We do carry replacement handles. 2 SIZES:
Item 54272
Length: 14.5"
Total weight: 1.3 lbs
Blade length: 4"
$24.00
Item 54274
Length: 16"
Total weight: 2.2 lbs
Blade length: 4.5"
$26.00
---
53957 – SHW Splitting Maul

The unique head shape of this German-forged splitting maul makes it's relatively light 6.6 pound weight incredibly effective (more effective than a conventional-shaped 8 lb. maul, according to a customer) AND resists sticking in the wood. The handle is actually American Hickory…the toughest stuff going.
Length: 35"
Total weight: 8.4 lbs
Head length: 8.5"
$44.00
---
53640–SHW Billhook Knife / Machete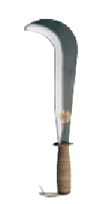 Well, the Germans actually call this a "cabbage knife" … although you could cut about anything you wanted with this bad boy!! The hooked blade IS handy for whacking off cabbage heads, though…and brush, saplings, and anything else that gets in your way. Blade is German Forged steel; handle is made out of stacked/layered leather. The Billhook tip "captures" the force of the swing and makes this a very effective tool.
Total Length: 17"
Blade length: 12"
Weight: 1.4"
$38.00
---
SHW Brush Hook/ Brush Axe

When a Machete won't cut it and a axe (or chainsaw) is too much, this tool is the perfect in-between, capable of chopping off a 1" sapling in one blow. Popular in Europe for maintaining "hedgerows", I use one for whacking back new tree growth on my fencerows yearly. Both sides of the head are sharpened. Blade Length: 11".
Two Handle Lengths:
Overall Length: 30"
Weight: 3 lbs
Item 54428: $41.00
Overall Length: 47.5"
Weight: 4 lbs
Item 53644: $43.00
---
53710 - "Scooping" Pointed Shovel

The head / handle angles of this tool make it perfectly designed for scooping material up off the ground with a minimum of bending the back: such as moving loose dirt, compost, sand, etc. The head is wider than most typical American pointed shovels, so it will hold more, and the rear edges are bent up to keep loose material from falling off the rear.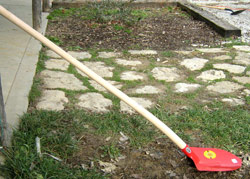 This shovel head is not high-tempered steel, so it is not recommended for heavy digging in hard soils, but it is GREAT for looser stuff. Handle easily replaced, like all SHW tools. A favorite of Jean-Martin Fortier ("The Market Gardener") for moving loose soil, compost, etc.
Head: 10.5" x 11.5".
Overall Length: 60"
Weight: 4.4 lbs.
$26.00
---
53813 - "Herold" Forged Digging Spade
Excellent German craftsmanship, high carbon forged steel, open-socket "strap-type" head/handle interface to allow wood to breathe for best handle life. Ash handle with European style wooden T-grip.
Head: 7"wide x 11" long Overall Length: 45" Weight: 5 lbs
$69.00
---
54819 - Super Weed Popper
When you have deep-taprooted plants that need to come out and you don't want to disturb a lot of soil, this is the ticket. With a head made of German forged steel, nice "steps" on the sides and an Ash T-grip handle, this "sharpshooter" will get the job done. Great for folks who are weeding out unwanted plants, OR harvesting plants (i.e. herbalists). Handle easily replaceable if you manage to break it.
HEAD: Width: 1.25" at bottom, 2.25" at top ; Length 9.5" Overall Length: 42" Weight: 2.8 lbs
$43.00
---
53080 - "Taproot Prybar"
Here's another tool for removing large-taprooted plants or shrubs. The manufacturer calls it a "Dock Digger", but it'll work on more than just Dock plants! Unlike the above tool that works more like a tiny shovel, this one is a bona-fide "prybar", and is made significantly heavier & tougher. The head is made of ¼" thick German forged steel and it has nice BIG "steps" on the sides (which double as the "fulcrum" when prying), and an Ash T-grip handle. Great for folks who are weeding out unwanted plants, OR harvesting plants (i.e. herbalists). Handle easily replaceable if you manage to break it.
HEAD: Width: 2.5" at bottom, Length 10.5"
"Opening" Width of "mouth": 2", narrowing to 3/8"
Width of "step": 8.5"
Overall Length: 48.5"
Weight: 3.5 lbs
$59.00
---
Scything & Sickles
While we don't claim to have the best selection of Scything equipment, these items represent good European quality at very good prices. These basic scythes make great "starter" scythes, and the sickles are top-of-the-line. For more specialized / serious sycthers, there are other websites who specialize in scything equipment, such as One Scythe Revolution or Scythe Connection.
---
54079 — SHW Tubular Steel Snath

Wooden handles adjust up or down snath for maximum operator comfort. Has removable "hoop" at bottom…when in place, blade "carries" more material with it. "Factory" angles work best for folks under 5'10" (We do have taller customers who have successfully "re-contoured" (bent) the lower part of the handle to fit their height better…this has to be done CAREFULLY, so as to not "crease" the tubular steel of the handle)
Length: 58"
Handles: 7.5" long
Weight: 2.6 lbs
$35.00
VIDEO: Mounting scythe blade to handle (snath)
---
54094 — SHW "Brush" Blade

Hand hammered blade is short and stout for whacking brush and weeds. Angled tang to fit European-style snaths.
Length: 17.5"
Height: 3"
Width: 4.75"
Weight: 1.75 lbs
$35.00
VIDEO: Mounting scythe blade to handle (snath)
---
54085 — SHW "Grass" Blade

Premium hand-hammered blade is comparable to many Austrian blades. Long and thin, for hay. Angled tang to fit European-style snaths.
Length: 28" Width: 3.5" Weight: 1.25 lbs
$59.00
VIDEO: Mounting scythe blade to handle (snath)
---
Smooth Sickle
These top-quality forged steel sickles are made in Italy by the Falci company, but we stuck them here in the SHW section anyway. These feature steel shanks that come all the way through the wooden handle and are bent over, for maximum resistance to the handle coming loose. Smooth sickles are best for cutting grass, weeds, etc. that you are simply letting fall to the ground…if you are HOLDING (harvesting) the material you are cutting off, then see our Serrated sickles. A great alternative to a weed-eater for cutting around garden beds, etc…quiet, no fumes, provides exercise, and they start every time! Very few companies make sickles with this quality any more. (Please note that weights are approximate…with hand-forged tools, individual weights may vary by a few percent)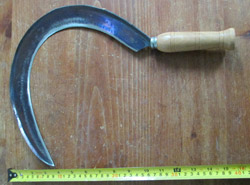 120694-2 Right-Handed: 16" long, 271 grams: $26.00
---
Serrated Harvest Sickle
Same great features as the smooth sickle above, but these have serrated blades—best for cutting material that you are holding. Only serrated on one side, so they can be sharpened. Since these have no "spine" behind the cutting edge, these can be used left- or right-handed. This also makes a pretty darn good "weeding" tool…of course, it's harder to keep it razor-sharp if you're sticking the tip in the soil, but it's a nice shape to use as a "weed hook".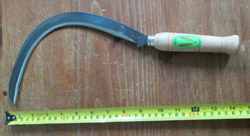 1402500: 14" long, 176 grams: $16.00
---
---
Maintain your scythe or sickle in the traditional style: Peen the edge with the hammer and Anvil (use a bigger hammer to drive the anvil into a block of wood first…it doesn't work so well otherwise!!), and hone the edge with the whetstone.
Techniques for these procedures can be found at the websites referenced in the "Scything" text block above.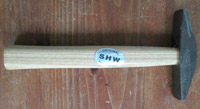 54590 Hammer 1.3 lbs, 10" long: $20.00
---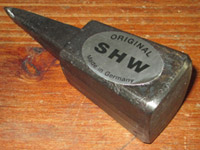 54588 Anvil 1.4 lbs, 4.5" x 1.5": $20.00
---
---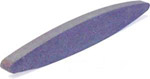 54089 Whetstone 9" long, medium grit: $6.00
---