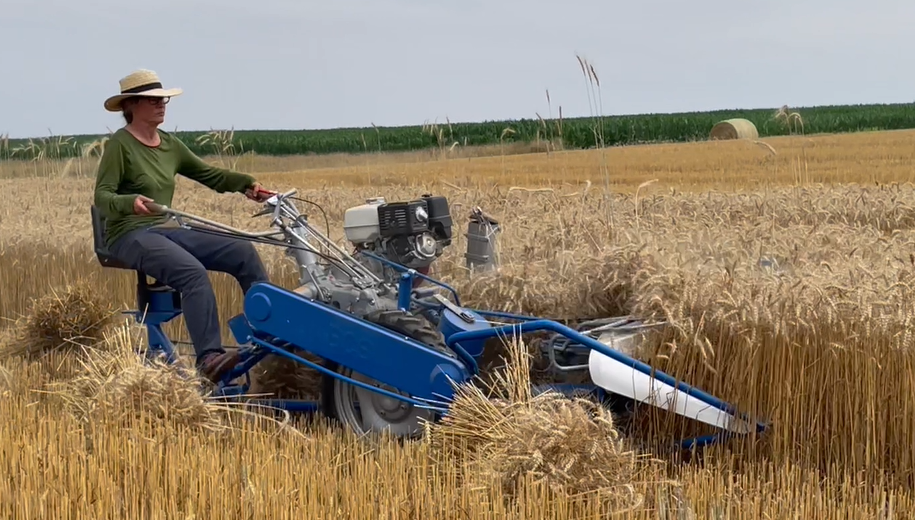 BCS 622 Reaper-Binder harvesting Wheat
Finally available in the USA: The BCS 622 Reaper-Binder solves the labor issue of harvesting small grain plots. Cuts and automatically binds cereal grains into sheaves. We have been trying to get BCS to import this to the North American market for over 10 years, and they've FINALLY done the work to convert it to an EPA-approved engine that can be sold here. Built for small-scale grain growers, the BCS 622 Reaper-Binder is a "dedicated unit" (that is, it is NOT a walk-behind tractor with an implement on it…this is a single-purpose machine) and is actually one of BCS's oldest machines; they were selling this in Europe in the 1950s –LONG before BCS started producing multi-purpose Walk-Behind Tractors.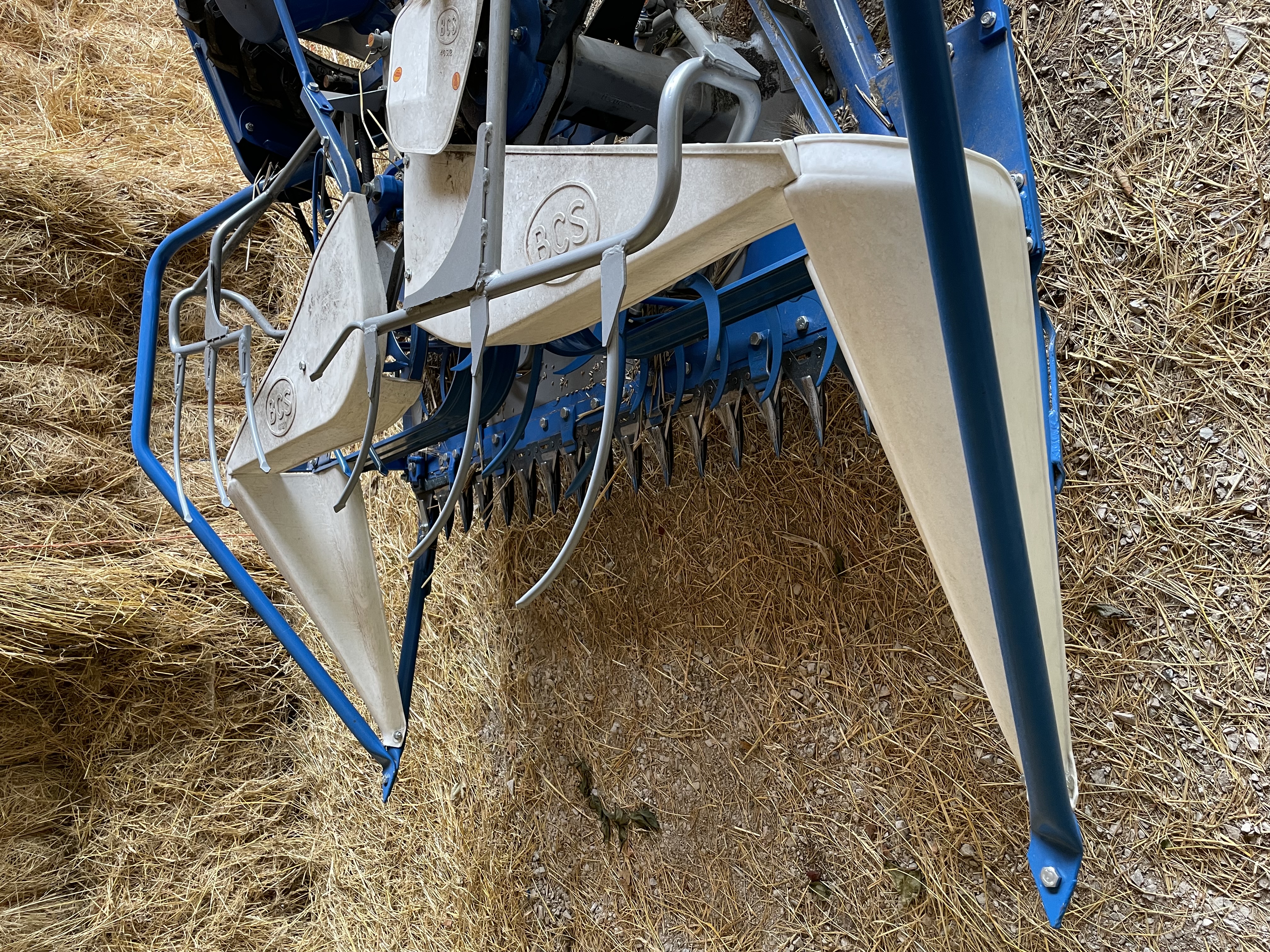 Patented cutter bar with
gathering / binding mechanism
with a 51 inch cutting swath, the 622 makes use of a sickle-bar to cut the grain stalks, and then powered gathering tines pull the cut material into the center, where an automatic trip device binds the sheaf of grain with twine when the bundle is full. Completed sheaves are dropped in the center and the machine "straddles" them as it moves forward. The binder has 4 settings to determine the size of the bundle. Wheat, Rye, Oats, Barley, and other stalked crops (such as Reeds, Sesame or even Lavender) ranging from 14" to 65" tall can be harvested.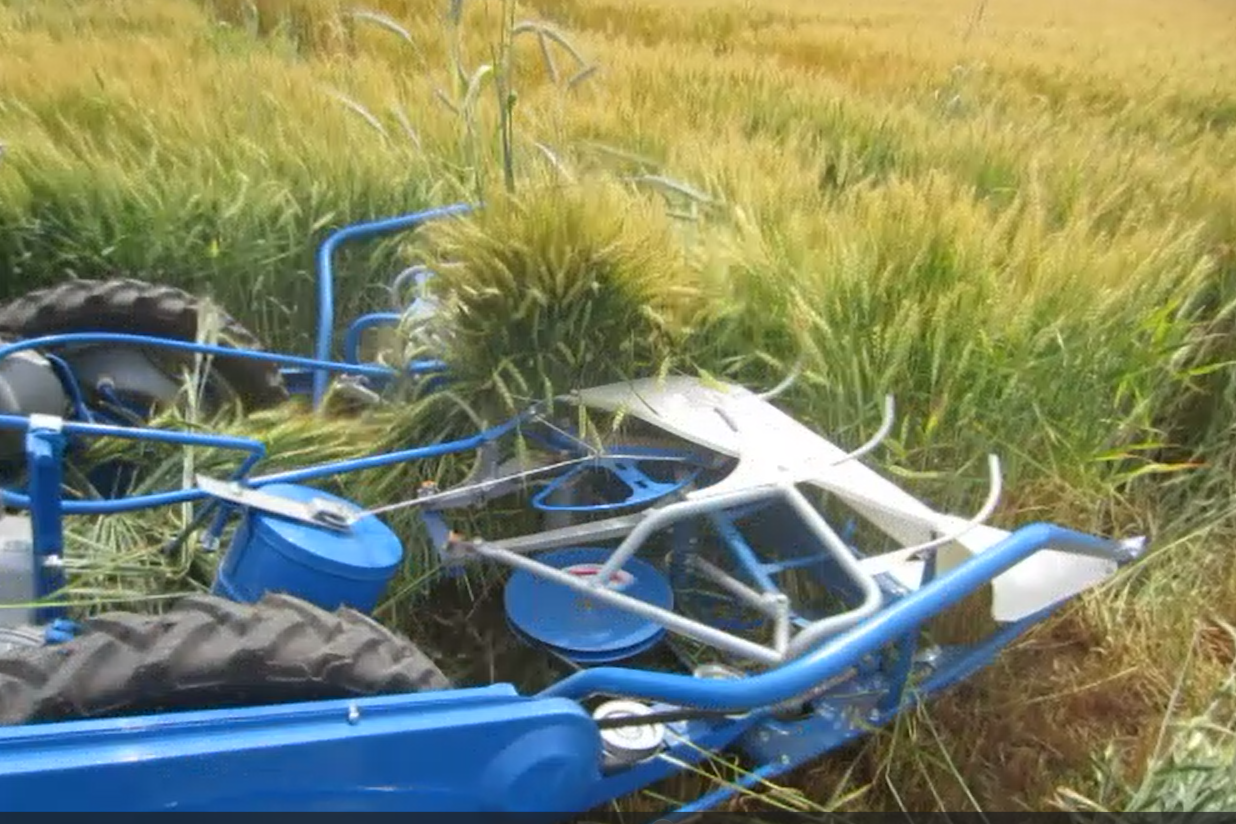 The Reaper-Binder can harvest
when crop is slightly green
Grain can be harvested slightly "green" with a Reaper-Binder, since the heads can ripen fully by pulling energy up out of the attached stalks. (In this case, grain bundles [sheaves] must be stored with plenty of air circulation, to avoid potential mold issues–especially in humid conditions!) An advantage of this is that you have a larger "window" of harvest opportunity, and also, if harvested slightly green, there is less chance of the grain falling off the head during the harvest / transport process. (NOTE: The grain must be fully formed…the kernels just don't have to be fully "hard". If you harvest before the grain is fully formed, it will NOT "form up" on the stalks) When harvesting "on the green side", make sure to set the "bundle size" setting to the MINIMUM bundle size, for better air circulation during the drying of the grain.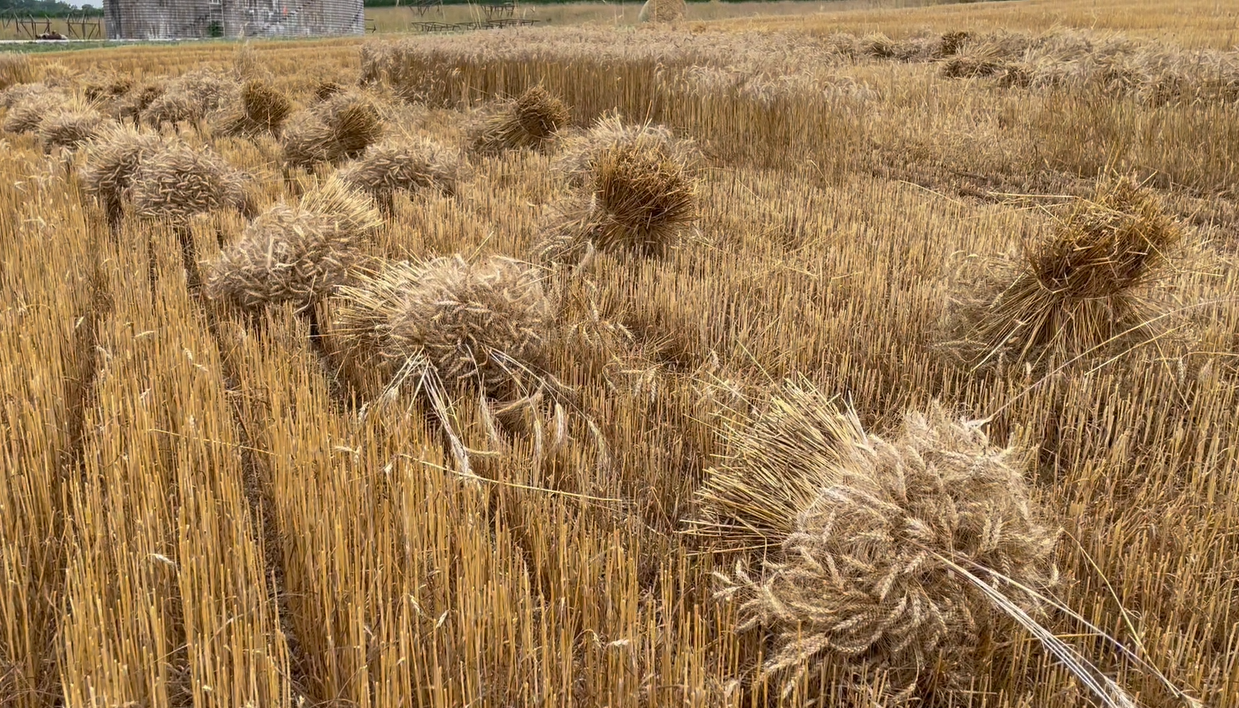 Sheaves are dropped every few feet
The Reaper can harvest at speeds up to 5 MPH, so you can put an acre of grain on the ground in 30 to 45 minutes. NOTE: The speeds shown below in the "specification" section are calculated at FULL THROTTLE…however, we do NOT recommend operating this machine at full throttle due to the excessive vibration produced by the sickle-bar cutting mechanism at that speed. We recommend operating at about ½ to 2/3 throttle on the engine, so the ground-speeds will be reduced as a result.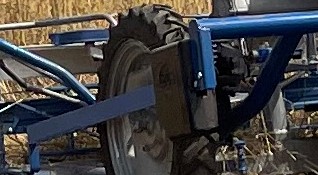 Movable weight for counter-balance
The 622 is equipped with a cast-iron 77 pound weight that is mounted on a "rail"…this can be slid forward or backward on the rail (it locks into notches approx. 10" apart) to balance the machine properly depending on terrain and ground conditions.
Standard cutting heights are 3.5" and 6.75" (depending on position of "skid" on the bottom of the machine), and the cutting unit can be raised to 9" off the ground for transport. (We actually harvested some grain at the 9" "transport" cutting height, just to see if would work…if the stalks are tall enough, it works fine, and you leave more "stubble" behind to put more organic material back into your field.)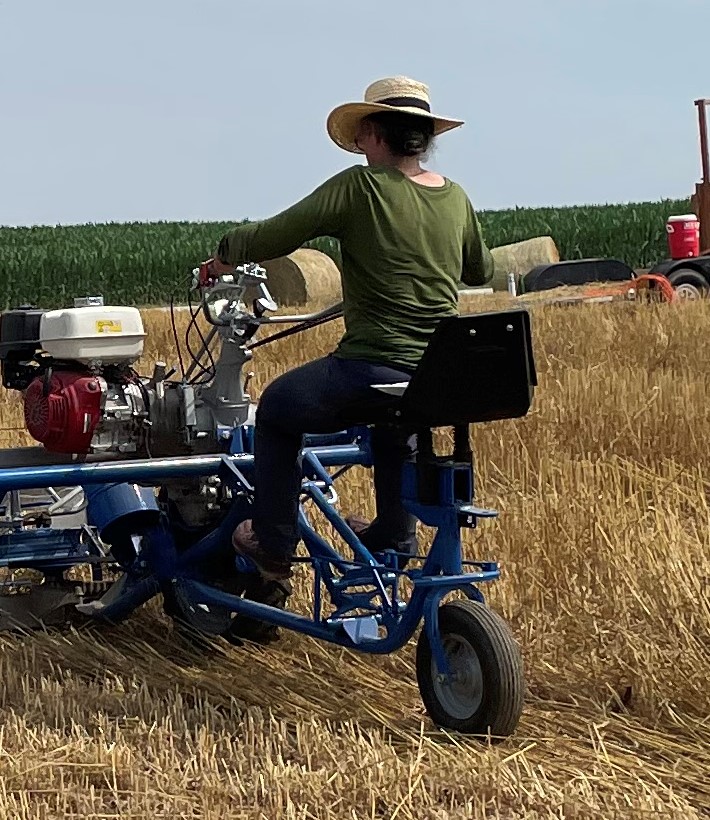 Removable riding sulky with pedal-
operated steering
The riding sulky comes with the 622. It has a unique "foot-pedal" steering system, which takes a while to get used to, but it is very effective (for TIGHT turns, you can use the independent steering brakes in conjunction with the sulky steering…that REALLY turns it around fast!) The sulky is removable, if you would rather have a walk-behind unit.
NOTE: This machine is too massive to ship fully assembled by standard palletized motor freight, and assembly is such a pain, we do NOT recommend that you purchase it disassembled. Therefore, after we assemble it here, it has to be shipped by open-bed truck or trailer (a service that has a "roll-back" truck or trailer to move cars or trucks would work) OR, you can drive here and pick up the machine (and get a free lesson in operating it!).
---
VIDEOS:
More coming soon!
---
Price
622 Reaper-Binder with sulky seat, 13hp Honda manual start gas engine (comes with 1 roll of binding twine): MSRP: $16,997 Earth Tools Sale Price $16,147

CALL FOR POTENTIAL EXTRA DISCOUNT!
---
Specifications
Engine Type/HP
GX390 Honda gas, 13hp
Starting System
Recoil
Clutch
flat plate, automotive type
Transmission
All hardened steel gears and shafts supported by ball bearings, in oil bath
Differential
(details here)
Standard, with lock
Steering Brakes
Yes, independent right and left brakes, which both "lock" as a parking brake
Speeds (at max throttle)

Fwd: 3.4, 4.7, 6.2 mph, transport speed 8.8 mph • Rev: 3.7 mph
Wheel Size
4.5"x19"x29" tall, tractor tread, tube type
Safety Features
Operator presence control (dead-man switch)
Reaper / Cutter engagement
Independent of wheel engagement
Weight

1110 lbs
Dimensions
74" wide x 142" long x 47" tall (with Sulky attached)