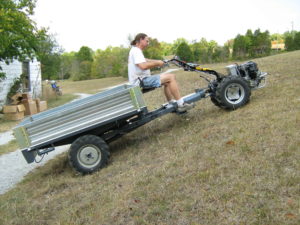 ERREPPI Brand Driven-wheel utility trailer (Fits Grillo models G107 or G131 and the Barbieri "Leopard" walking tractors ONLY!) This system converts the Grillo models G107 & G131 or Barbieri Leopard walk-behind tractors into a 4-wheel drive off-road hauler capable of going almost anywhere and carrying almost a ton of payload. PTO drive to trailer runs off a "synchronized PTO" unit (optional on Grillo G131, standard on Barbieri Leopard) that bolts to the top of the tractor transmission (Note: on Grillo G107 and G131, this option is DEALER INSTALLED ONLY!) which meshes with the main wheel drive gear, giving the tractor a second PTO shaft which the speed and direction of is synchronized with the drive wheels of the tractor. With this thing, load size and terrain type hardly matter. With an oscillating swivel-joint built into the frame, all 4 wheels stay on the ground regardless of how uneven the terrain, for maximum traction. The only down-side is that because there is a PTO shaft running through the center, the articulated steering will only go so far (the limit of a universal joint), meaning it is not as maneuverable as some of the other transport options. Still, it has a turning radius as good or better than a full-sized pickup truck.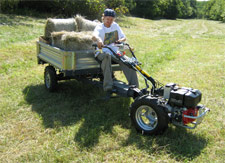 Standard Version Stocked at Earth Tools: As pictured: Manual dump to rear; Steering is via tractor handlebars; all controls still mounted to handlebar; Manual brakes with foot pedal and Hand (parking) brake as well. Bed measures 55" x 71" x 12" deep (27 cubic feet filled level). All sides are removable to make flat bed if desired, and sides have "pockets" to accept "extensions" to make taller sides (these extensions are available factory-made, or you can make your own with some strap-steel and wood). Has tie-down points on corners. Requires tractor be equipped with Synchronized PTO unit. Rated Carrying capacity: 1600 lbs. (however, I know from experience that this is conservative…) Approximate install or removal time to take trailer on or off tractor: 10 to 15 minutes.
ALSO AVAILABLE TO FIT OLDER BCS TRACTOR MODELS THAT CAME WITH SYNCHRONIZED PTO UNITS INSTALLED FROM FACTORY…SOME OLD BCS 745s HAVE THIS FEATURE. We also have a FEW Syncho PTO units available to fit old BCS 735 models…call for details.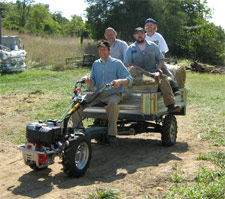 If these trailers are shipped by motor freight, they are shipped DISASSEMBLED due to the size. (assembled, they are simply too big to be handled by typical freight delivery services.) Allow a couple hours to assemble after you receive it. Also, we have to build a heavy-duty custom pallet for them, and an additional crating charge of $250 will apply. If picked up at our facility, Driven-wheel trailers will be fully assembled at NO additional charge. (but make sure you come with a good-sized trailer to haul it on!)
---
Erreppi Driven-Wheel Utility Trailer
To fit Grillo G107 (REQUIRES Synchronized PTO kit below! Also requires tractor to be equipped with 5x12x22" wheels) Item RTS-120-107 MSRP: $4499 $4250
To fit Grillo G131 (REQUIRES Synchronized PTO kit below! Also requires tractor to be equipped with 6.5x12x23" wheels) Item RTS-120-131 MSRP: $4499 $4250
To fit Barbieri Leopard (REQUIRES that tractor be equipped with 6.5/80x15x26" wheels) Item RTS-120-BAR MSRP: $4799 $4500
(If trailers are shipped, $250 Crating Charge will apply, over & above freight charges)
Synchronized PTO kit required for G107 (Item 9B5712) MSRP: $549 $499
Synchronized PTO kit required for G131 (Item 9B5712) MSRP: $449 $425
Optional Load Protection grill for front of bed (Extends 28" above bed…provides "roll" protection too!) $350