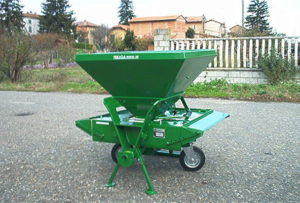 This heavy-duty PTO powered spreader mounts to a walk-behind tractor in the Front-PTO mode and has a centrifugal rotary spreader below the hopper (much like the spreader on the back of a salt-spreading truck for roadways). It is designed to handle granulated fertilizer, lime, salt, sand or any such dry material.
Spreading coverage is adjustable in width by adjusting a deflector on either side of the rotor which allows coverage of as little as 30 inches width and as much as 12 feet (there is a permanent deflector behind the rotor which keeps material from being thrown back on the underside of the tractor and the operator). Spreading density is controlled by an incrementally adjustable "door" at the base of the hopper, by ground speed and engine throttle speed. Material is "agitated" at the bottom of the hopper by a shaft with paddles on it to keep material from clumping and to keep a good flow down through the "door" onto the centrifugal slinger. Equipped with 8" diameter, 2" wide solid caster wheels.
Note: if using this implement on a slope, we recommend a tractor equipped with steering brakes for easier control. The weight of this implement (250 lbs) combined with 220 lbs. of payload is a whopper to handle on a hillside without steering brakes! We also offer custom-made brackets to widen the wheelbase for steeper terrain, and larger caster wheels for rough ground.
---
Rescia Guiliano Fertilizer / Lime / Salt Spreader
Spreads granulated fertilizer, lime, salt, sand, etc.
Hopper capacity: 220 lbs
All steel construction
Item SMS-100-B fits BCS 732 - 948, Grillo G131 with adapters
Item SMS-100-G fits Grillo G85D - G110
Requires additional accessory to fit BCS 750 or 948
MSRP: $1799 $1595
Upcharge for 10" diameter, 3" wide caster wheels: $85
Fee for custom-made wider-wheelbase brackets, including above larger caster wheels: $145
Additional accessory required to fit BCS 660 or 750