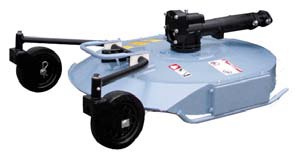 This mower was first introduced by BCS in 1990 as a "Heavy Duty Mower", in response to a demand in the North American market for a "brush mower" implement (which BCS did not offer up to that time); BCS styled The deck after the old Gravely® brand 30" brush mowers. This seemed like a good idea at the time… BCS now calls it a "HD Combo" mower, putting it forth as half brush mower, half lawn mower.
The result was a mower that worked…sort of. Like most "in-between" products trying to straddle two applications, we find that it falls somewhat short in both departments. Here is a list of pros/cons of the various features of the HD Combo mower:
Standard Blade Type: Solid (fixed) blade With an all-gear powertrain, not having a "swinging" blade design to absorb shock (when you hit a stump, rock, etc.) is very hard on the mower gearbox.
Gearbox Housing: Aluminum We feel this is not strong enough to stand up the beating that most brush mowers need to take…particularly with the "fixed" blade (above)!
Mower "Lift" (the ability to "suck" the grass upright for a smooth cut on a lawn): Minimal. Very small lift-wings on the back of the blade, so it doesn't do a great job on a lawn-quality cut. (It definitely gives a better "lawn" cut than a dedicated Brush Mower, though.)
Material discharge: This is an issue BCS inherited from Gravely® when they copied the deck design…there is really not any discharge port for the cut material. So if the material you're cutting is very thick or tall, it can clog up under the deck and bog the engine severely. However, if the tractor is equipped with 12" rim wheels, this helps a lot by getting the rear end of the deck off the ground more so that some cut material can come out there.
Method of cutting-height regulation: 2 caster wheels out front, which, if desired, lift completely off the ground by pulling a single pin and fold up over the mower, and then the mower runs on 2 non-adjustable "skids". Flipping the wheels up in this fashion makes the mower shorter and more maneuverable, but the downside is that in brushy conditions, some material can get caught on the flipped-up caster wheels instead of passing smoothly over the deck.
Cutting height: Adjustable from about 3 to 5 inches, by a combination of changing the axle-pin-position of each caster wheel, and re-positioning some spacers on the blade mount.

BCS does offer a "swinging"-type blade assembly as an accessory, and while these do provide better protection for the gearbox, the trouble with this particular swing-blade is that the center-section of the assembly is rather undersized, so by the time you wear out a set of swinging blade-tips, it is likely that the center-section will be too warped to safely put another set of "tips" on.
As a result of all the above, combined with the fact that we have had several customers who had purchased one of these mowers at another dealer and then wanted to trade it to us because they were dis-satisfied with them, WE DO NOT STOCK THIS MOWER. We feel that our Zanon brand lawn mowers or Berta brand flail mowers do a better job at being a "crossover brush mower" and are better built. However, if you feel you have the "right" application for this mower, we can certainly order an HD Combo mower for you.
---
Item 921.91235 (fits BCS 739 - 853) MSRP: $2199 Earth Tools Regular Sale price: $2089

CALL FOR EXTRA DISCOUNTED PRICE UNTIL DEC 31 2023

Note: This is a special-order item

Standard blade is "solid" 8 lb. blade
"Swinging" blade kit # 592.58015: $70
Debris screen (for engine cooling air intake) recommended
Implement weights and/or PTO extension may be required for proper balance