Flail mowers feature a horizontally-mounted rotor with numerous hinged (flailing) blades that pulverize a variety of materials in a single pass: Cover Crops, Weeds, Grass, and Brush up to 1" diameter. These heavy-duty mowers are the most forgiving mower type in rocky conditions due to the fact that the blades can easily "fold back" when hitting a hard object. The blades "flail" out by centrifugal force (at a drum speed of about 3000 rpm) to pulverize material. Flail mowers are excellent for reducing mowed material to a very small size for quick incorporation/breakdown into the soil. They are very popular for cover crops for this reason. A six-foot tall cover crop can be reduced to 2" – 4" pieces in a single pass and left evenly distributed across the width of the mower.
Because of the time and horsepower required to "grind up" the material that is being mowed, the taller and denser the material is, the slower this type of mower typically has to travel (unlike a Cutter [sickle] Bar Mower, which only cuts material off at the bottom and therefore doesn't care how tall it is…or a Brush Mower, which will give a decent cut at higher speeds but just not grind the material up much).
HOWEVER, with the introduction of the BERTA brand (the same company that builds our Rotary Plow) flail mowers in 2010, this has changed…Berta is the first manufacturer to offer flail mowers with an adjustable-size discharge port on their flail mower. The adjustment is achieved via a removable "baffle": If installed, the discharge port is SMALLER, and the material stays inside the mower longer and gets chopped up more; If the baffle is removed, the discharge port is LARGER, and the mower discharges the cut material in larger pieces, therefore requiring less power, and the mower can be run at higher ground speeds. This allows the Berta flail mowers to double as an effective and fast Brush & General-Purpose Mower, as well as being a great cover-crop / vegetable residue mower.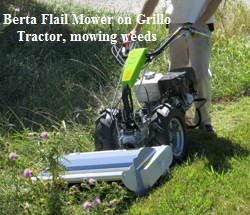 The Berta and Green Technik Flail Mowers come standard equipment with a full-width steel roller behind the blade rotor which can be adjusted (by removing 2 bolts) up or down to regulate cutting height from about 0-3 inches (varies somewhat by tire size on tractor). Berta also offers a set of caster wheels as optional equipment which mount in front of the mower…these result in slightly easier side-to-side maneuvering, but make the mower physically longer and can "press down" the grass, weeds, etc. where the wheels roll, resulting in the material not being cut as evenly. Cutting height is fully and easily adjustable with the caster wheels as well, and virtually limitlessly within the 1 to 4 inch range, with a couple quick-pins. The Berta casters can also be "unlocked" and flipped back up over the mower to get them out of the way in rough conditions.
IMPORTANT NOTE FOR RAISED BEDS:
If you are using the flail mower to mow cover crop or vegetable residues on top of raised beds, the full width steel roller that the Berta mowers come standard with is
essential
…because caster wheels will
fall off the edges of the bed
, resulting in the blades contacting the soil and "scalping", which damages the blades, and possibly stalls the engine.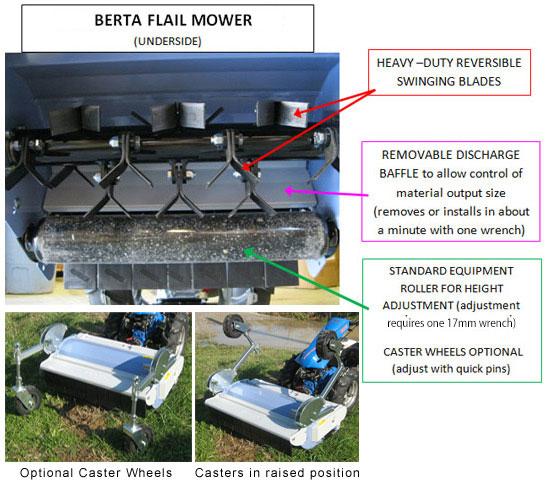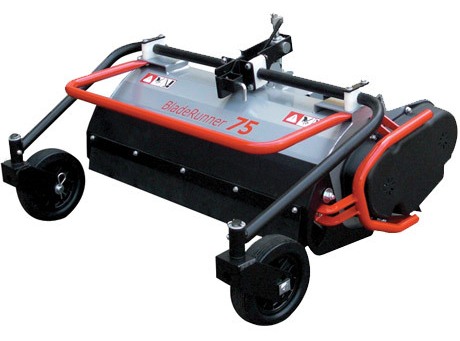 BCS "Blade Runner" flail mower
The BCS brand ("Blade Runner") flail mowers have caster wheels standard equipment; they adjust via a screw-crank. On the BCS BladeRunner mowers, the wheels can also be lifted and locked in a "straight up" position, if desired, to get them out of the way (like the Berta caster wheels in the picture above), and then the BCS BladeRunner mowers rest on "skids" (which are NOT adjustable in height). The BCS BladeRunner mowers do have an option available of a full-width "anti-scalp" steel roller for height regulation (like what the Berta mowers come with standard)…this is NOT adjustable in height; cutting height is about 2" with this installed. Also, the BCS and Green Technik brand flail mowers DO NOT have a removable discharge baffle like the Berta mowers, so they chop up the material to the same size all the time. NOTE: BCS claims that their "High-Dome" chamber design on their "BladeRunner" models eliminates the need for a removable discharge baffle…but in reality, the end result is that the BCS flail mowers (like tractor-mounted flail mowers) do NOT have a way to control the amount the material gets chopped up. The "High-Dome" design simply means that the material is not held as closely to the blades, so it will never get chopped up as fine as what a Berta can do with the discharge baffle installed.
The Berta flails have an oscillating PTO mount (IF the tractor is equipped with a quick coupling) which allows the mower to "float" on uneven terrain, for an even cut. The BCS and Green Technik flails do NOT have a "floating" feature.
In late 2016, BCS introduced a new flail mower option: The "RollerBlade", which is available in a 30" width only. Interestingly, it is modeled almost precisely after the Berta brand flails, except it does NOT have a "floating" feature to aid the quality of cut on uneven ground, and it does NOT have a removable discharge-baffle to adjust material-discharge size. However, we offer this model as well, if someone should want it.
Here is a chart comparing the Berta and BCS Brand Flail mowers:
| | Berta Flails | BCS "Rollerblade" Flails | BCS "Blade Runner" Flails |
| --- | --- | --- | --- |
| Material Discharge Size | Adjustable by removable baffle: With baffle IN, makes material "small" (for cover crops & vegetable residue) OR, with baffle OUT, (larger discharged material) for brush mowing | Fixed, always shreds material "small" (good for cover crops, but not great for brush mowing) | Fixed, always shreds material to a "medium" size (not as versatile) |
| Width options | 26", 30", 34" | 30" | 24", 30", 35" |
| Cutting Height adjustment | 6 positions within 2.5" range via adjustable full-width steel roller: causes no compression on beds, stays on top of raised beds (caster wheels optional if desired) | Variable within 2" range via adjustable full-width steel roller: causes no compression on beds, stays on top of raised beds | Variable within 3.5" range via adjustable caster wheels (OK for field mowing, not good for raised beds) |
| "Floating" mower deck | Yes, mower "swivels" in PTO coupling to allow mower to follow ground contours separate from tractor wheels (smoother cut) | None, deck is rigid to tractor | None, deck is rigid to tractor |
| Blade type | Heavy-duty Y blades standard, scarification or lawn mowing blades optional | Heavy-duty Y blades standard, lawn mowing blades optional | Light-duty Y blades standard, lawn mowing blades optional |
| Caster Wheels | Optional, adjustable (only potentially desirable for field mowing…no good on raised beds) | Not available | Standard, adjustable (full-width roller optional for raised beds [extra cost]) |
| Front "Louver" (guard) | With individual swinging "flaps" for protection, Adjustable in height to accommodate different height materials | With individual swinging "flaps" for protection, NOT adjustable | Spring-loaded adjustment, no individual flaps |
All the flail mowers have an oil bath input-shaft gearbox with grease fittings on rotor bearings. They use two V-belts to transfer power to the blade rotor. Belts are easily adjustable and replaceable.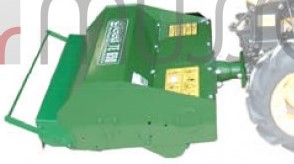 18" Green Technik flail mower
All our Flail mowers come standard with Y-blades, which will cut anything from grass and weeds to ¾" hardwood or 1" softwood saplings. The mowers can also be equipped with straight "scarification" blades, which will do light slitting of the ground for overseeding. Another blade option is "lawn/finishing" blades, which will do a smoother, nicer-looking job on a lawn. (NOTE: The Y-blades on the BCS BladeRunner flails are not as heavy-duty as the ones on the Berta or Green Technik mowers, so they will not cut material quite as large [½" hardwood / ¾" softwood saplings], and they are not as durable.)
Click here for a short video of the Berta flail mower in action
Click here for a video of the Berta Flail mower cutting cornstalks
Click here for a video showing features / setup / basic maintenance of the Berta Flail Mowers
NOTE: Some farmers are starting to grow a cover-crop called SUN-HEMP. NO flail mower can cut this stuff once it is mature!! If you plan on growing sun-hemp, it must be mowed while the plant is young (first flowers just visible) and the stalks are still very supple and not woody / fibrous.
PRICES: (Arranged in order of cutting width)
---
Green Technik 18" Flail Mower
Item GT TSLL45-B (fits BCS 620 - 853 [not 750]) MSRP: $1499 $1424
Item GT TSLL45-G (fits Grillo G85 - G110) MSRP: $1499 $1424
Debris screen (for engine cooling air intake) recommended
Implement weights and/or PTO extension may be required for proper balance on tractors with heavy engines
---
BCS 24" Blade Runner Flail Mower
Item 921.91238 (fits BCS 620 - 948 [8hp and up]) MSRP: $3099 Earth Tools Regular Sale price: $2944
Debris screen (for engine cooling air intake) recommended
Implement weights and/or PTO extension may be required for proper balance and/or wheel clearance
Requires additional accessory to fit BCS 660, 750 or 948
Anti-Scalp Roller (922.90892) MSRP: $240 $228
---
Green Technik 26" Flail Mower
Item GT TSLL65-B (fits BCS 620 - 853 [not 750]) MSRP: $1799 $1650
Item GT TSLL65-G (fits Grillo G85 - G110) MSRP: $1799 $1650
Debris screen (for engine cooling air intake) recommended
Implement weights and/or PTO extension may be required for proper balance on tractors with heavy engines
---
Berta 26" Flail Mower
Item SHARK65-B (fits BCS 732 - 948 [9hp and up]) MSRP: $2400 $2280
Item SHARK65-G (fits Grillo G85 [9hp]- G107) MSRP: $2400 $2280
Item SHARK65-G110 (fits Grillo G110) MSRP: $2400 $2280
Debris screen (for engine cooling air intake) recommended
Requires additional accessory to fit BCS 660, 750 or 948
Caster wheel kit: MSRP: $350 $315
Implement weights and/or PTO extension may be required for proper balance on tractors with heavy engines
---
Berta 30" Flail Mower
Item SHARK75-B (fits BCS 739 - 948 [11hp and up]) MSRP: $2600 $2470
Item SHARK75-G110 (fits Grillo G110) MSRP: $2600 $2470
Debris screen (for engine cooling air intake) recommended
Requires additional accessory to fit BCS 660, 750 or 948
Caster wheel kit: MSRP: $350 $315
---
BCS 30" BladeRunner Flail Mower
Item 921.91237 (fits BCS 739 - 948 [11hp and up]) MSRP: $3249 Earth Tools Regular Sale price: $3086
Debris screen (for engine cooling air intake) recommended
Requires additional accessory to fit BCS 660, 750 or 948
Anti-Scalp Roller (922.90893) MSRP: $260 $247
---
BCS 30" RollerBlade Flail Mower
Item 921.C0977 (fits BCS 739 - 948 [11hp and up]) MSRP: $3349 Earth Tools Regular Sale price: $3181
Debris screen (for engine cooling air intake) recommended
Requires additional accessory to fit BCS 660, 750 or 948
---
Berta 34" Flail Mower
Item SHARK85-B (fits BCS 749 - 948 Except for 770 & 779 [12hp and up gas, 11hp and up diesel]) MSRP: $2800 $2660
Item SHARK85-G131 (fits Grillo G131) MSRP: $2800 $2660
Debris screen (for engine cooling air intake) recommended
Requires additional accessory to fit BCS 660, 750 or 948
Caster wheel kit: MSRP: $350 $315
---
BCS 35" BladeRunner Flail Mower
Item 921.91239 (fits BCS 749 - 948 Except for 770 & 779 [13hp and up gas, 11hp and up diesel]) MSRP: $3499 Earth Tools Regular Sale price: $3324
Debris screen (for engine cooling air intake) recommended
Requires additional accessory to fit BCS 660, 750 or 948
Anti-Scalp Roller (922.90895) MSRP: $280 $266