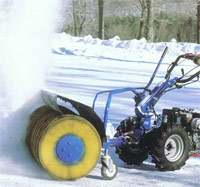 Caravaggi 40" power sweeper on BCS tractor
These tough gear-driven sweepers are equipped with a universal joint in the drive shaft which allows the broom to operate angled to the left, right or center position; the angle adjustment lever protrudes conveniently back toward the operator for quick adjustments while sweeping. Popular uses for this tool include snow removal (excellent for snow depth of 5" or less), dirt and debris removal on parking lots, driveways, sidewalks, construction sites, loading docks, etc. Even does a good job on leaf / pine needle removal on lawns, and some folks use it for de-thatching lawns.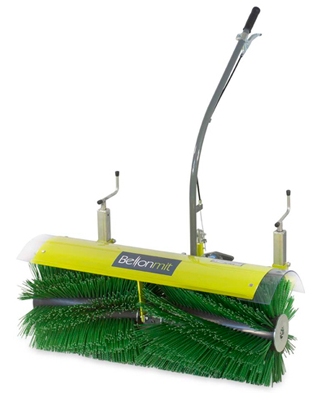 Bellon 48" power sweeper
Swivel caster wheels infinitely regulate sweeping height/pressure; oscillating swivel-joint in mounting flange allows sweeper to follow ground contours independently of the tractor wheels. Equipped with polypropylene bristles standard; poly-wire bristles optional (40" size only). Gearbox features fully hardened steel gears and ball bearings in oil bath enclosed in a cast-iron housing. We carry 3 different brands, in order to give our customers the best price for all available sizes.
---
BCS brand 31" Power Sweeper
---
Caravaggi brand 40" Power Sweeper
Fits BCS or Grillo 7.5 hp & up
Brush Speed (at max engine speed): 290 rpm
Additional accessory required to fit BCS 660 or 750
Item SW10-B (Fits BCS 620, 722 - 948, Grillo G131 with adapter) MSRP: $1999 Earth Tools Regular Sale price: $1700
Item SW10-G (Fits Grillo G85 [8hp+] - G110) MSRP: $1949 $1700
---
Bellon brand 48" Power Sweeper
Fits BCS 11 hp & up, Grillo G110
Brush Speed (at max engine speed): 350 rpm
Additional accessory required to fit BCS 660 or 750
Item MSP1200-B (BCS 739 hp & up, Grillo G131 with adapters) MSRP: $1999 Earth Tools Regular Sale price: $1790
Item MSP1200-G (Grillo G110) MSRP: $2099 $1950
---
Sweeper Accessories
31" Sweeper brush set with standard Poly bristles (fits above 31" sweeper) Item 922.99009, MSRP: $370 $350
31" Sweeper brush set with Poly/Wire bristles (fits above 31" sweeper) Item 922.99011, MSRP: $400 $380
40" Sweeper brush set with standard Poly bristles (fits BCS and Caravaggi 40" sweepers) Item 922.99001K, MSRP: $430 $390
40" Sweeper brush set with Poly/Wire bristles (fits BCS and Caravaggi 40" sweepers) Item 922.99008, MSRP: $460 $437
48" Sweeper brush set with standard Poly bristles (fits above Bellon 48" sweeper) Item 7SZPP0D002 + 7SZPP0S002: MSRP: $400 $360
48" Sweeper brush set with standard Poly bristles (fits BCS-brand 48" sweeper) 922.99012: MSRP: $465 $442 (special order)
48" Sweeper brush set with Poly/Wire bristles (fits BCS-brand 48" sweeper) 922.99013: MSRP: $550 $522 (special order)