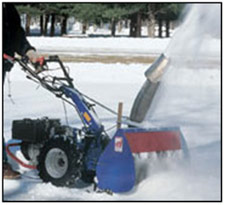 Don't be fooled – these blowers, with a single stage auger that turns over 1200 RPMs, will outperform almost every two-stage walk-behind snowblower on the market (with the exception of the Berta 2-stage blowers in our lineup). Why can't other brands do this? Simple: we have all gear drive. The power necessary to maintain this high auger RPM cannot be efficiently maintained through belts, and yet that's how every 'competing' single-purpose walk-behind snowblower is built. Owners of the BCS single-stage units call them "snow cannons", and they are not kidding! We don't get to use these much here in Kentucky, but when I lived in Indiana, we got to use them some…it's mighty impressive to watch a blower throw snow 30 or 40 feet! These Single-stage blowers will move up to 16" of snow in a single pass…if your average depth of snow that needs to be moved is MORE than this, then you may need a 2-stage blower.
Heat-treated gears are housed in an oil-bath gearbox and supported by ball bearings. Because the "paddles" (which are at the center of the augers, to throw the snow out the chute) project a half-inch or so past the augers themselves, these units have the uncanny ability to crush and spit out almost anything…frozen chunks of snow, ice on top of snow, wet snow, etc. All units have adjustable skid shoes on each side, which can hold the (replaceable) scraper bit on the bottom up off the ground as much as an 1.5 inches for gravel driveways. Discharge chutes are made of steel – no cheap plastic here. Chutes rotate to the right or left via a handle that extends up to operator position (BCS uses a crank-type, worm-screw adjustment that rotates the chute a full 190 degrees; Rescia employs a push-pull cam-arm system that is mush faster to use, but has a rotation range limited to about 140 degrees). The top of the chutes have an up/down discharge angle adjustment with a quick screw-knob to lock it in place at the desired angle.
The Rescia Guiliano blowers have an additional design feature: they utilize a SIDE-DRIVEN auger, which has the benefit of virtually NOT being able to clog or jam it…simply because there is no gearbox in the center to jam against. The auger shaft on these models is driven at one side by a lubricant-enclosed super-heavy-duty double-chain drive, and supported at both ends by ball bearings. Without the gearbox in the center slightly impeding the flow of snow, the Recsia models will also handle slightly more volume than the comparable BCS. And — best yet: Rescia offers a single-stage model to fit a BCS in a 32" width, so folks with the larger (11hp & up) BCS tractors no longer have to settle for a 28" snowblower, they can get something better matched to the HP and weight of their larger walk-behind tractor!
Due to relatively low implement weight on some snowblower sizes, a PTO extension or weight may be required to properly counter-balance engine. Ask us for more info.
NOTE REGARDING SHIPPING: To reduce the chances of damage in transit, these units are shipped not-quite-fully assembled … all models will require the chute to be installed to the top (5 minutes or less).
---
Rescia Guiliano 20" Snow Blower, Single Stage
Fits Grillo 6hp to 9hp gas
Item 160RM/50 (Grillo G85 - G107) MSRP: $999 Earth Tools Regular Sale price: $950
---
BCS 24" Snow Blower, Single Stage
Fits BCS 6.5hp & up gas
Implement weights may be required for proper balance
May require PTO extension and/or implement weight for proper balance and / or clearance
Item 921.91223 (BCS 620 - 853, not 660 or 750) MSRP: $1499 Earth Tools Regular Sale price: $1424>
Weight kit for 24" BCS snowblower: Item 922.59518, MSRP $110 $104
---
Rescia Guiliano 24" Snow Blower, Single Stage
Fits Grillo 7.5hp & up gas, 7hp & up diesel
Item 160RM/60 (Grillo G85 8hp and up - G110) MSRP: $1299 Earth Tools Regular Sale price: $1200
---
BCS 28" Snow Blower, Single Stage
Fits BCS 8 hp & up gas
May require PTO extension and/or Implement weight for proper balance and / or clearance
Additional accessory required to fit BCS 660 or 750
Item 921.91224 (BCS 620, 722 - 948) MSRP: $1649 Earth Tools Regular Sale price: $1565
Weight kit for 28" BCS snowblower: Item 922.59519, MSRP $120 $114
---
Rescia Guiliano 28" Snow Blower, Single Stage
Fits Grillo 9hp & up gas, 8hp & up diesel
Item 160RM/70-G (Grillo G85 8hp and up - G110) MSRP: $1499 Earth Tools Regular Sale price: $1400
---
Rescia Guiliano 32" Snow Blower, Single Stage
Fits BCS 11hp & up gas, 10hp & up diesel, Grillo G110
Requires additional accessory to fit BCS 660, 750 or 948
Item 160RM/80 (BCS 739 - 948) MSRP: $1799 Earth Tools Regular Sale price: $1700
Item 160RM/80-G (Grillo G110) MSRP: $1799 Earth Tools Regular Sale price: $1700