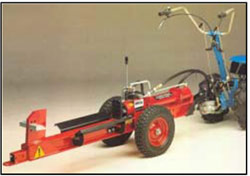 Why have another engine around to maintain when you only use it a few times a year? The fit, finish and quality of components on these splitters are second to none, and your walk-behind tractor provides the power. One of the best features, of course, is that you can drive this splitter anywhere you want it with your walk-behind tractor! The tractor hooks to the splitter via a pivoting hitch assembly, to give the unit good 'articulation' for maneuvering. Log 'cradle' is standard equipment. We carry 2 splitter models: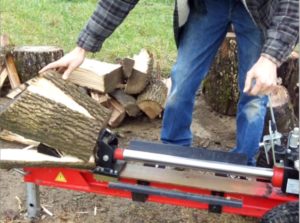 1. Bell brand Horizontal splitter. This splitter features a unique 2-stage valve assembly that lets the user choose between high speed/low tonnage and low speed/high tonnage at any time by simply pushing the actuator lever half-way or all the way forward. The actuator lever locks back for ram retraction and automatically returns to 'neutral' when ram fully retracted. Removable 4-way wedge is optional and has 3 height positions. Double clevis hitch point and oscillating joint in tongue keep the splitter tracking perfectly behind the tractor during transport no matter what the terrain. Splitter has a 'leg' that lowers from end opposite tractor hookup to support unit when disconnected from tractor and should also be used to provide extra stability & support when splitting. This is our most popular splitter.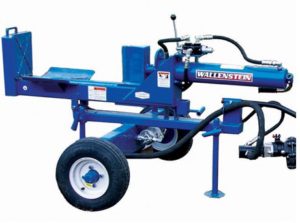 2. BCS brand Horizontal/Vertical splitter
(MFD by Wallenstein of Canada). This model has the ability to tilt the I-beam to a horizontal OR vertical position. Using in the vertical position requires more bending over, but is sometimes desired for HEAVY blocks…no lifting, you just scoot them up on the platform and the wedge comes down to split them. This unit has a 2-stage pump which automatically selects high speed/low tonnage or low speed/high tonnage depending on need. This model also has a 4-way wedge option.
NOTE #1:
This splitter REQUIRES the purchase of the BCS "Power Cradle", which is a gearbox to increase PTO speed of the tractor to a speed compatible with the hydraulic pump. The BCS Pressure Washer AND the BCS Water Transfer Pump also require this same "Power Cradle", so if you have the need for
more than one
of these implements, you only need to purchase ONE Power Cradle.
NOTE #2:
The BCS splitter also requires a "tow coupler" to hook it to the tow hitch of the walking tractor (shown in price list below).
NOTE: Both these splitters are supplied to fit post-1995 700 & 800 series BCS tractors; fitting them to Grillo tractors or older BCS tractors requires a PTO adapter (see tractor accessories page).
---
BELL brand horizontal log splitter
Max log length: 25"
Max log diameter: 30"
Tons of force: 25
Wedge height: 8"
Cycle time: 22 sec (low), 13 sec (high)
Shipped assembled (except for actuator handle–60 second install)
Fits BCS 710 (9hp) - 948 (Additional accessory required to fit BCS 660 or 750)
PTO adapter required to fit Grillo G85 - 110 or G131
Item MM26: MSRP: $1999 $1899
4-way wedge option (Item: Bell K91001000) MSRP: $120 $110
---
BCS / Wallenstein brand horizontal / vertical log splitter
Max log length: 24"
Max log diameter: 30"
Tons of force: 20
Wedge height: 8"
Cycle time: 23 sec (low), 14 sec (high)
Shipped disassembled
Fits BCS 722 - 948 (Additional accessory required to fit BCS 660 or 750)
PTO adapter required to fit Grillo G85 - 110 or G131
Splitter Item 921LS416 (WITHOUT Power Cradle OR Tow Coupler) MSRP: $3099 $2944
REQUIRED ACCESSORY: Item 922.57880KP: $385
REQUIRES ONE OF THE FOLLOWING: 922.59500 Tow coupler (for current BCS models 722 through 739): MSRP: $95 $90 OR 922.47720 (for current BCS models 749 through 948) MSRP: $95 $90 OR 9F4212 (for Grillo models G85 through 110) MSRP: $90 $85
4-way wedge option (Item W4120) MSRP: $415 $394