For Farmers - Horse Owners - Landscapers - Homeowners
For many years, we have gotten requests for a "Straw Chopper / blower" to fit walk-behind tractors…Well, here it is! Built by the Caravaggi company of Italy, this tough machine utilizes the PTO power of a walk-behind tractor to chop Straw or Hay Bales* (or loose hay, straw, or dry leaves) and blow it out either one OR two discharge ports. Great for producing your own: Animal Bedding –Small animal feed – Mulch – Compost – Erosion control!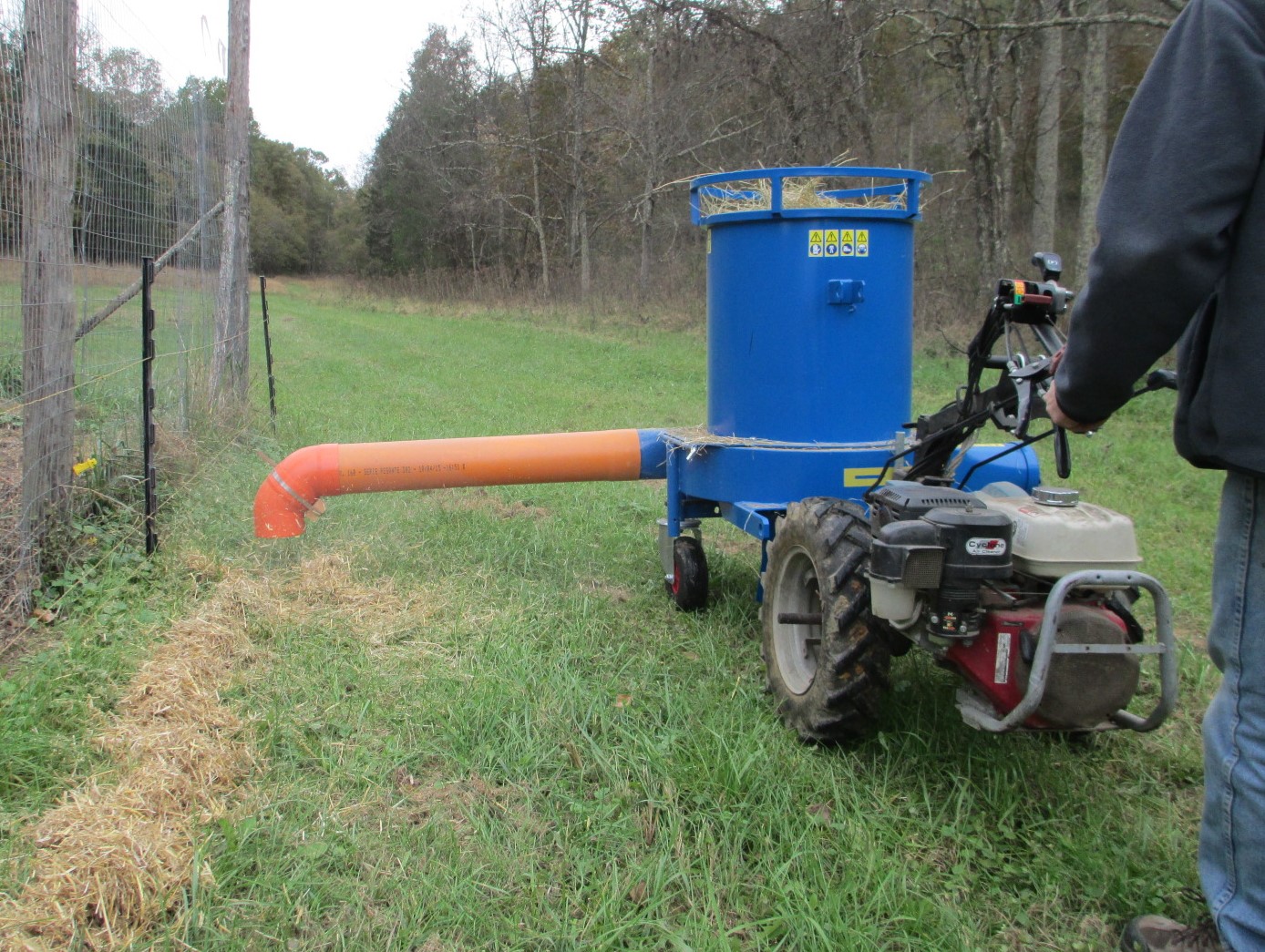 Laying down shredded straw for mulch
The Chopper accepts "standard-size" square-bales of straw or hay, OR, you can feed in loose straw / hay, or even dry leaves.
Unlike a "stationary" straw chopper, the "motive" ability of this implement on a Walk-Behind Tractor enables folks to apply shredded straw, hay, or leaf mulch directly to pathways or garden beds when used with the tractor MOVING (see photo on left), OR, if you want to utilize it with the tractor "stationary", chopped material can either be discharged into fixed location (wheelbarrow, etc) OR a flexible discharge hose can be attached to allow you to blow the shredded material around. (For example: Use it to blow shredded straw on a piece of ground you have just worked and seeded with grass, and want some shredded straw in place to keep it from eroding while the grass germinates. (Flexible hose NOT included–but the openings are standard 6")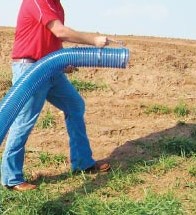 Using flexible hose (not included)
to blow shredded straw
This machine offers 3 distinct advantages over "dedicated" straw-chopper / blowers on the market:
1. This straw chopper / blower is SELF-PROPELLED! You don't have to put it on a trailer or drag it manually to move it around your property!
2. This straw chopper / blower DOESN'T need its own engine (a maintenance/fuel storage headache), it utilizes the engine already on your walk-behind tractor!
3. Most Dedicated straw chopper / blowers on the market using the same size engine cost OVER $5000! So this unit has a MAJOR price advantage.
4. Works very well to shred DRY LEAVES! (see video link below) Just dump 'em in by the bag!
ALSO AVAILABLE IN A 3-POINT-HITCH TRACTOR PTO-MOUNT VERSION…SEE BELOW FOR PRICE
Features:
Shredding speed: up to 40 bales per hour (approx. 200 cu. ft. per hour)
Accepts standard 2-string straw bales, hay bales or alfalfa bales
Will also accept loose hay / straw / alfalfa / dry leaves (output speed may be less)
All shaft / Gear drive
2 blades + 24 sharpened "hammers" pulverize the material, which then drops down and is chopped further by swinging knives on the circumference of the flywheel until it is small enough to fit through the holes in the "discharge screen".
Comes standard with medium-size "discharge screen" (chops straw about 1" long) – 5 Optional screens available to vary final material size larger or smaller.
TWO discharge ports…one on each side. Comes with a metal cover to cap one port off if desired.
Includes two 4-foot sections of plastic 6" pipe and 2 plastic elbows
Has 10" diameter, 3" wide solid-rubber caster wheels for moving on rough ground
Output control lever allows incremental adjustment from "high velocity/low volume" to "low velocity/high volume" settings
Requires MINIMUM of 13hp gas (or 10hp diesel) engine on walk-behind tractor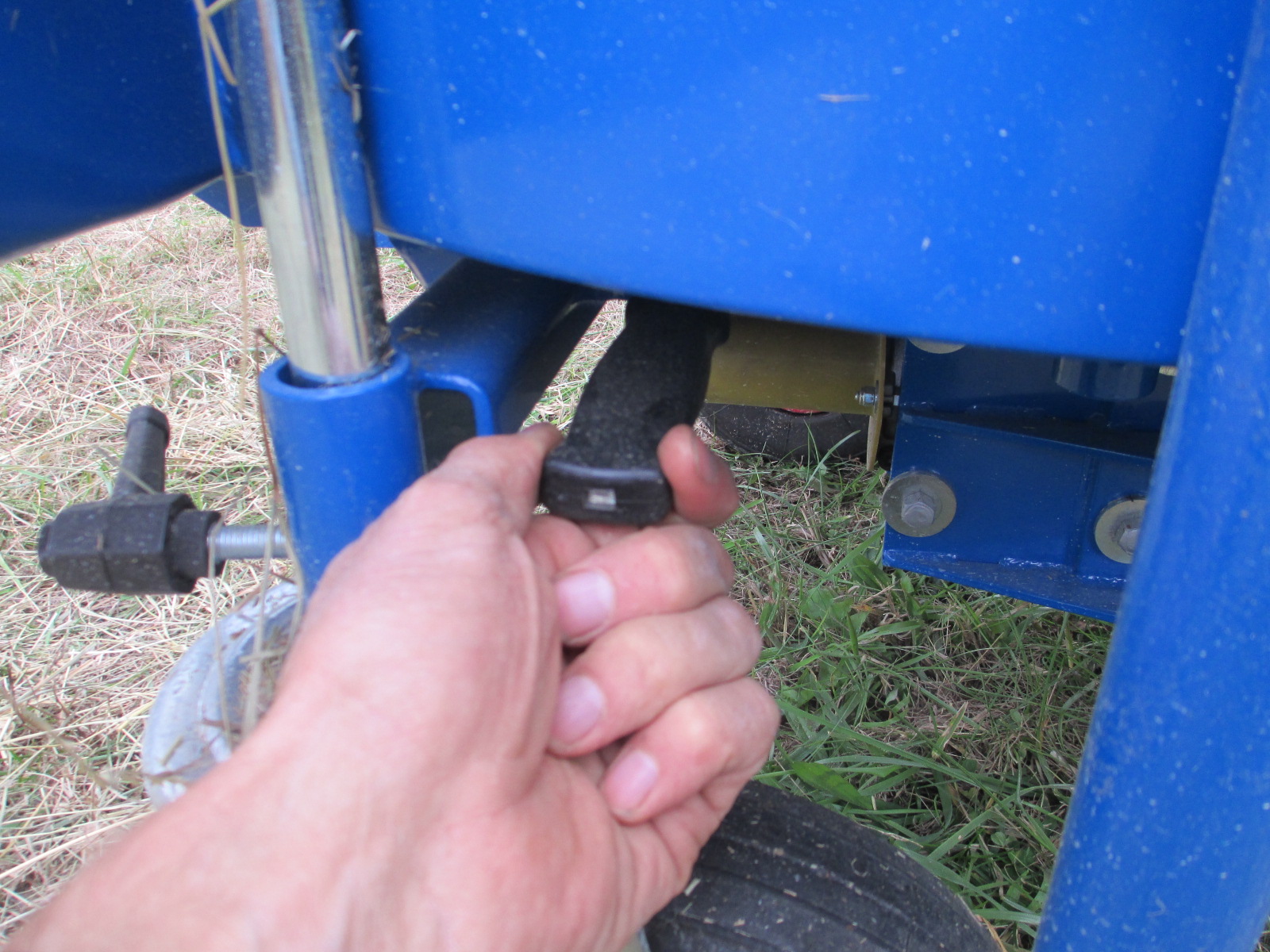 Output Control Lever
Click Here for a video of the machine in action shredding LEAVES
---
Caravaggi Straw Chopper / Blower
Item CAR-STRAW-B: Fits BCS 660, 749, 750, 852 & 853, also fits Grillo G131 with PTO adapters (Requires additional accessory to fit BCS 660 and 750): MSRP: $3649 $3300
Item CAR-STRAW-G: Fits Grillo G110: MSRP: $3649 $3300
Item CAR-STRAW-PTO: 3-POINT-HITCH TRACTOR PTO-MOUNT VERSION, requires 15hp minimum: MSRP: $3649 $3300