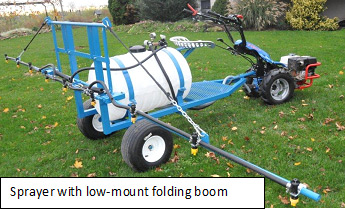 We have found a small company in Pennsylvania that builds Custom Sprayer rigs, and they will tailor them to Walk-Behind Tractor applications! They typically build to fit BCS, but a PTO adapter and different tow coupler will fit these units to the Grillo tractors as well. (Pictured here are a couple configuration options, but these guys will do several optional designs.)
Their standard tank is 55 gallons, and they can provide either a PTO-operated pump, or a 12 Volt electric pump (for tractors equipped with electric start—hooks to tractor battery). They offer several different spray boom configurations, both Low-mount and High-mount, in varying widths and with variable numbers of nozzles. Also, spray-wands are available.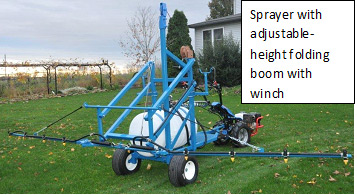 These folks are Sprayer professionals; to ask questions about sprayer applications / designs / prices / or to place an order for a sprayer, please call this company directly: IVA Manufacturing, 717-768-0747. (If IVA has a local dealer covering your area, they will refer you to that dealer.)
All sprayers shipped directly from the manufacturer or through a local dealer; Earth Tools does not get involved with these units. We advertise this product here on our website because it is a good product and it increases the versatility of the Walk-Behind tractors we sell; we don't need to make it more expensive for the buyer by us buying it and marking it up for resale.
There are more options available, and the manufacturer can customize the spray-rig to your applications. Give them a call for more details: IVA Manufacturing, 717-768-0747.