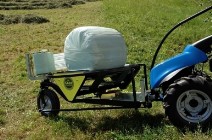 Now you can effectively produce silage with a 2-wheel tractor using the CAEB Bale Wrapper. In many European countries where the climate is too damp for hay production, hay is simply cut and baled green (no drying time for the hay), and then wrapped in airtight plastic film to make haylage or silage… which is actually a higher quality feed than hay for many animals. The "green" bales are simultaneously rotated and spun (make sense?) on the gear-driven platform while the 10" wide stretch film wraps, overlaps and squeezes air out to allow the proper anaerobic action that "ferments" the hay.
The machine can be set for 2 lap, 4 lap, or 6 lap winding depending on how stalky (and therefore prone to puncturing the film) the bale material is. Like the Baler, the Wrapper is equipped with a male quick-coupling to fit the desired tractor, and comes standard with one roll of plastic stretch-wrap included.
Fits BCS or Grillo walk-behind tractors 9hp & up gas, 8hp & up diesel.
---
CAEB Bale Wrapper (for silage)
Item AV550-B (fits BCS 620, 722 - 948, Grillo G131 w/ adapters) MSRP: $4599 $4150
Requires additional accessory to fit BCS 660, 750 or 948
Item AV550-G (fits Grillo G110 MSRP: $4599 $4150
Can be special-ordered to fit Grillo G85d or G107
Roll of stretch film for wrappers (Item STRETCHWRAP) MSRP: $95 $80