TILLER DEPTH CONTROL WHEEL (for Shallow tillage)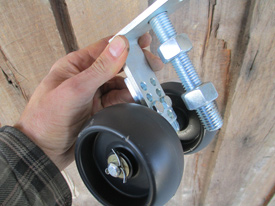 One of the challenges people face with these high-speed tillers is getting them to till at consistently SHALLOW depths, which is desirable for weed control. We now manufacture this handy little gauge wheel assembly, which inserts into the same little receiver under the tiller hood that the Tiller Transport wheel and Hiller/Furrower mount into. The wheel can be adjusted in two ways: By running the 2 large nuts up or down the threaded rod (requires a 1 1/8" wrench), or by moving the wheel unit up or down on the mounting frame (4 sets of holes, requires qty. 2 – 13mm wrenches—NOTE: these fasteners are not quite tight when we ship this accessory, because we figure you'll probably be adjusting it).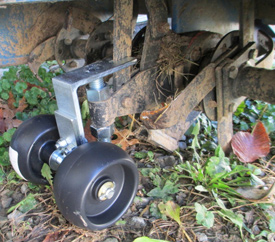 Tilling depth can be adjusted in the range of 0 to 3 inches deep. (Adjustments will vary depending on tractor wheel size, soil type, etc…you just have to play with it a bit.) The 2" wide wheels do make a couple small tracks behind the tiller, but this is typically not an issue when using the tiller for weed control. Fits BCS and Grillo tillers (although more requested by BCS users, since the Grillo tillers do a better job maintaining a relatively shallow tilling depth due to their more-adjustable depth-setting design).
Manufactured by Earth Tools
Item TLR DPTH WHL: MSRP: $55 $50
TILLER TRANSPORT WHEEL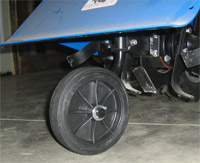 When transporting the tractor with tiller implement installed, this wheel holds tiller up off the ground. Especially good for transporting longer distances over concrete, asphalt, gravel, etc.
Item 9C7012 (WHEN ORDERING, SPECIFY IF IT NEEDS TO FIT A BCS OR GRILLO TILLER!!) MSRP: $44 $40
BOX SCRAPER ENDS (Fit 36" Dozer/Scraper Blade)
This Earth Tools Exclusive kit converts the BCS brand Dozer/Scraper Blade to a Box Scraper (also called a "Grader Box")…EXTREMELY handy for grading of dirt or gravel. Box Scraper Ends attach at each end of blade with 2 bolts & nuts each, so removal or installation is only a few minutes. (If you are purchasing a new 36" blade AND a Box End kit from us at the same time, we will pre-drill the mounting holes needed in the blade at no extra cost.
If you are purchasing the Box End kit for an existing blade you already have, you will have to drill the mounting holes yourself [requires a drill with a 13/32 drill-bit].)
Box End Kit (Item ET0172) MSRP: 100 $90
---
LEVELING PLATE (for 36" Dozer/Scraper Blade)
We now offer another Earth Tools Exclusive Accessory: Since the 36" Dozer/Scraper blade does not offer any "rotational float". this becomes a problem when used on a tractor with larger-than-standard wheels: anytime you "pivot" the blade to one side, one side of the blade is higher than the other, because of the "tilted" angle the of tractor down towards the blade when large wheels are used. So, we have devised a "Leveling Plate", which offsets the blade frame mounting to the implement mount of the tractor, and thus keeps the horizontal plane of the blade level. The plate has 3 different offset positions to handle any wheel height.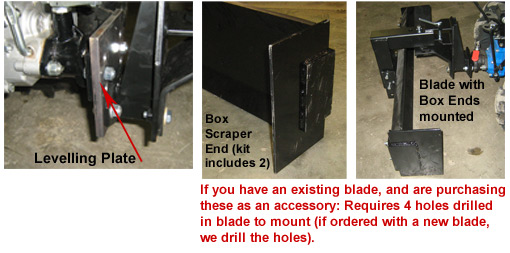 Leveler Plate (Item ET0170) MSRP: $45 $40
---
We now offer an adaption system that allows you to attach the popular "Hoss" brand Wheel-hoe tools to our cultivators. It consists of 2 parts: A "shank" with brackets to attach to a Hoss Wheel-Hoe frame, and the [green] wheel-hoe frame itself…We sell these as a "kit" (1 shank & 1 frame). Once you have this kit, ANY of the Hoss tools that will mount to a Hoss Wheel Hoe will mount up. Since it utilizes an actual Wheel Hoe frame, you can take advantage of the same versatility that you would have on a Hoss Wheel Hoe…for example: Mounting both right and left hilling plows (or cultivation sweeps) on the same frame. You can fit as many of the kits on a tool bar as the bar width allows.
Hoss Adapter Kit (1) to accept Hoss Wheel Hoe tools (ET Hoss Adapter Kit): $50 $45
---
NEW ACCESSORY! Tiller expansion kit to make BCS 26" tiller into 30"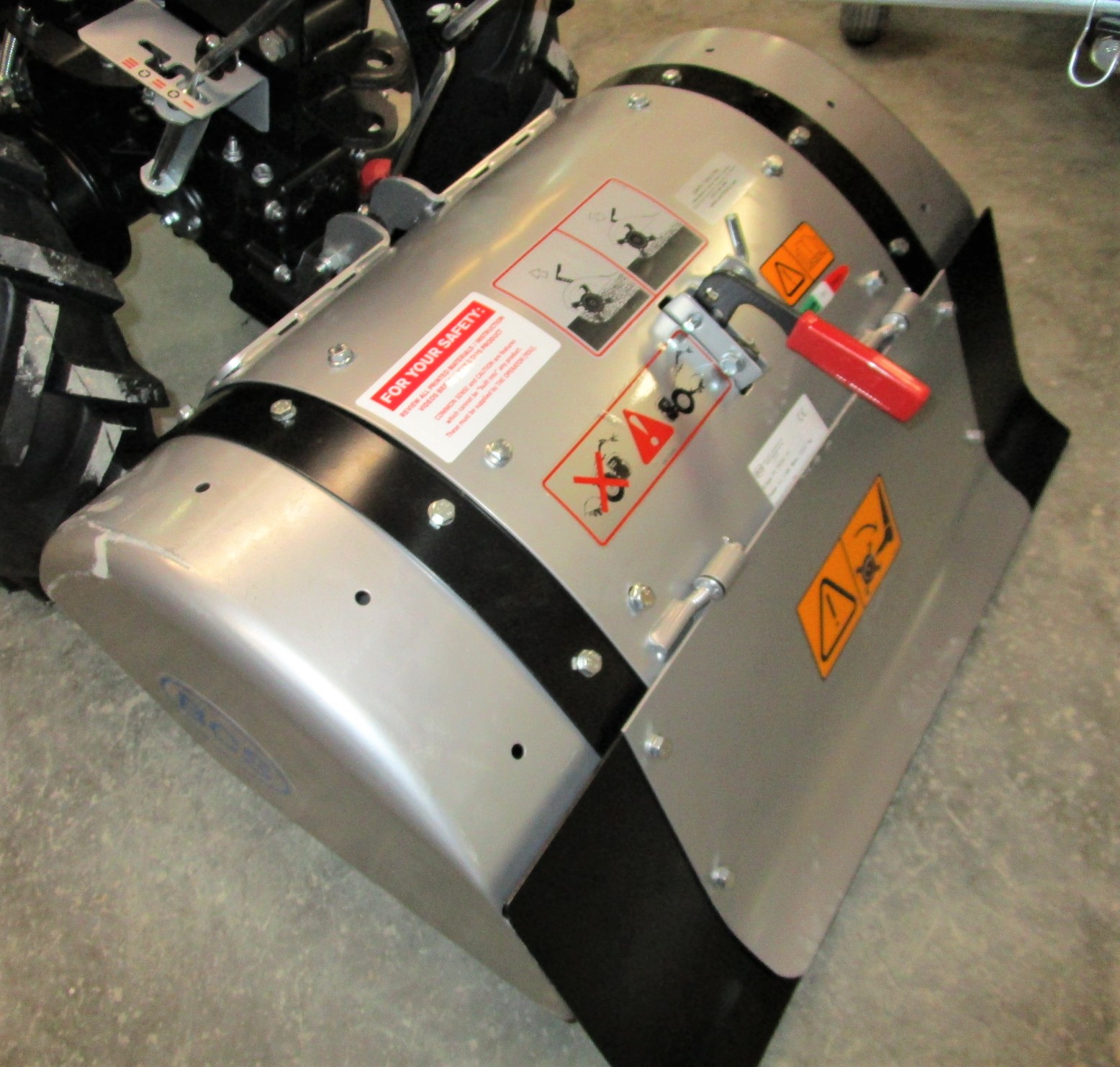 Expansion kit installed on 26" BCS tiller.
(the BLACK panels are the expansion panels)
We developed this kit in response to popular demand…we heard from many customers who already owned BCS 26" tillers who wanted to switch to the popular 30" bed system, and naturally wanted to expand their existing tiller rather than buy a new one. Presto, here it is! This kit fits "newer" type (built after 1995 with "rounded" hood) BCS 26" tillers, expanding them to 30". And the nice thing is, with the kit removed, you can still shrink the hood & tine width all the way down to 20", for narrow cultivation (the new 30" tillers from BCS will only adjust down to 26"…NOT to 20"…because the hood "center panel" is too wide). Includes expansion panels for the hood & rear flap, as well as extra tines and all hardware needed for installation. DOES NOT FIT PRE-1995 BCS TILLERS WITH "FLAT-TOP" HOOD!!
Item ET 2630: Fits Post-1995 BCS 26" tiller (with ROUNDED hood) MSRP: $125 $115
---
NEW ACCESSORY! ROW MARKER KIT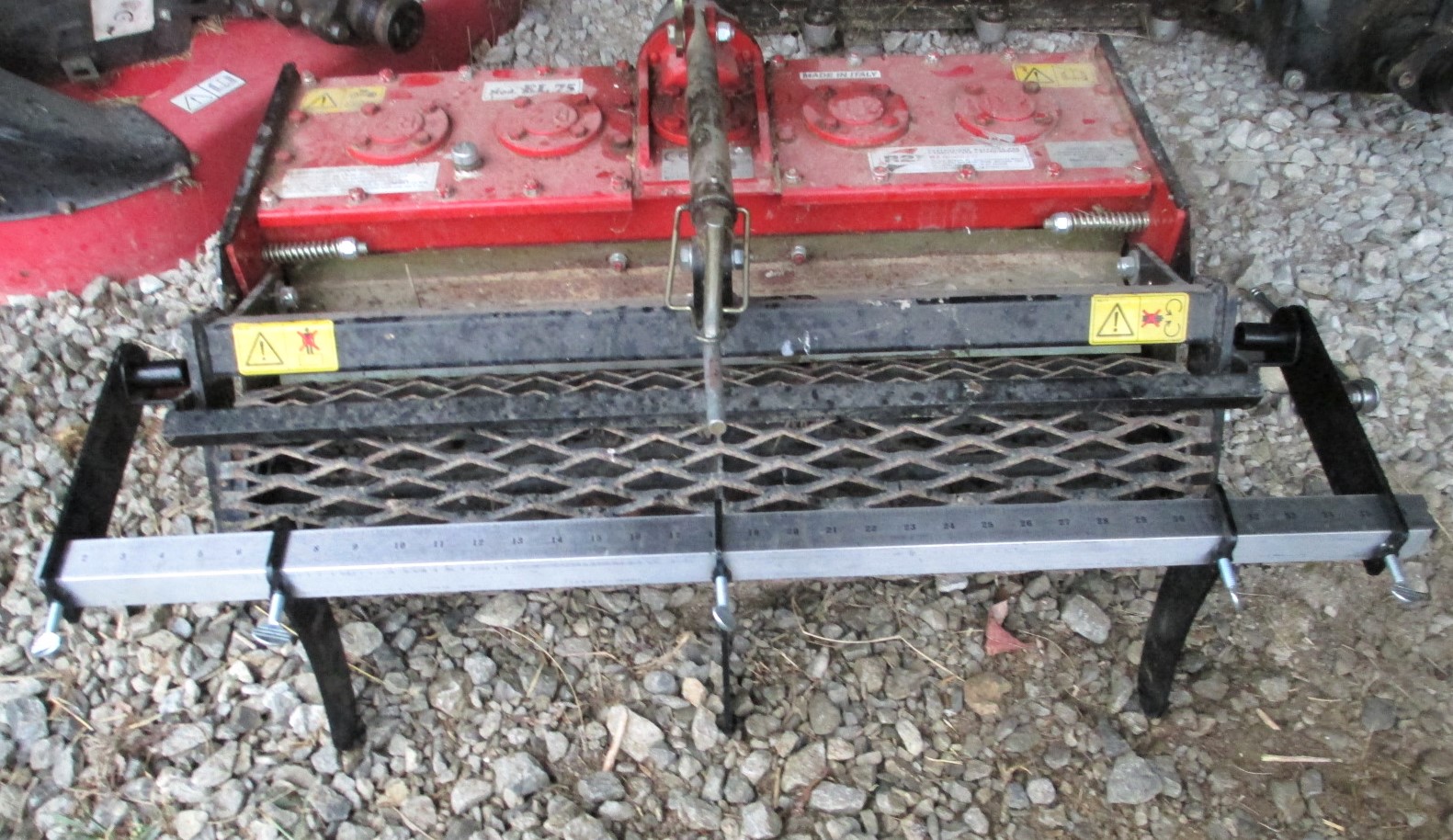 Row-marker frame with 3 markers installed
Now available to fit the R2 Rinaldi EL75 30" Power Harrow (pictured) OR the Earth Tools TDS roller system that installs on the 30" tillers. Accommodates up to 6 markers on the frame. Markers easily adjusted / added / subtracted with thumb-screws. The markers are rounded on the bottom, so as to avoid catching and dragging organic material (cover crop residue, etc.). Once the support brackets are attached to the Harrow roller frame (4 bolts, 2 minutes), the row-marker frame installs or removes in about 15 seconds (the brackets can stay on the harrow from then on). No extra brackets required for attaching to the TDS roller frame, so the row marker installs or uninstalls in 15 seconds in that application. Flips "up" when you need to turn the tractor around, back up, etc.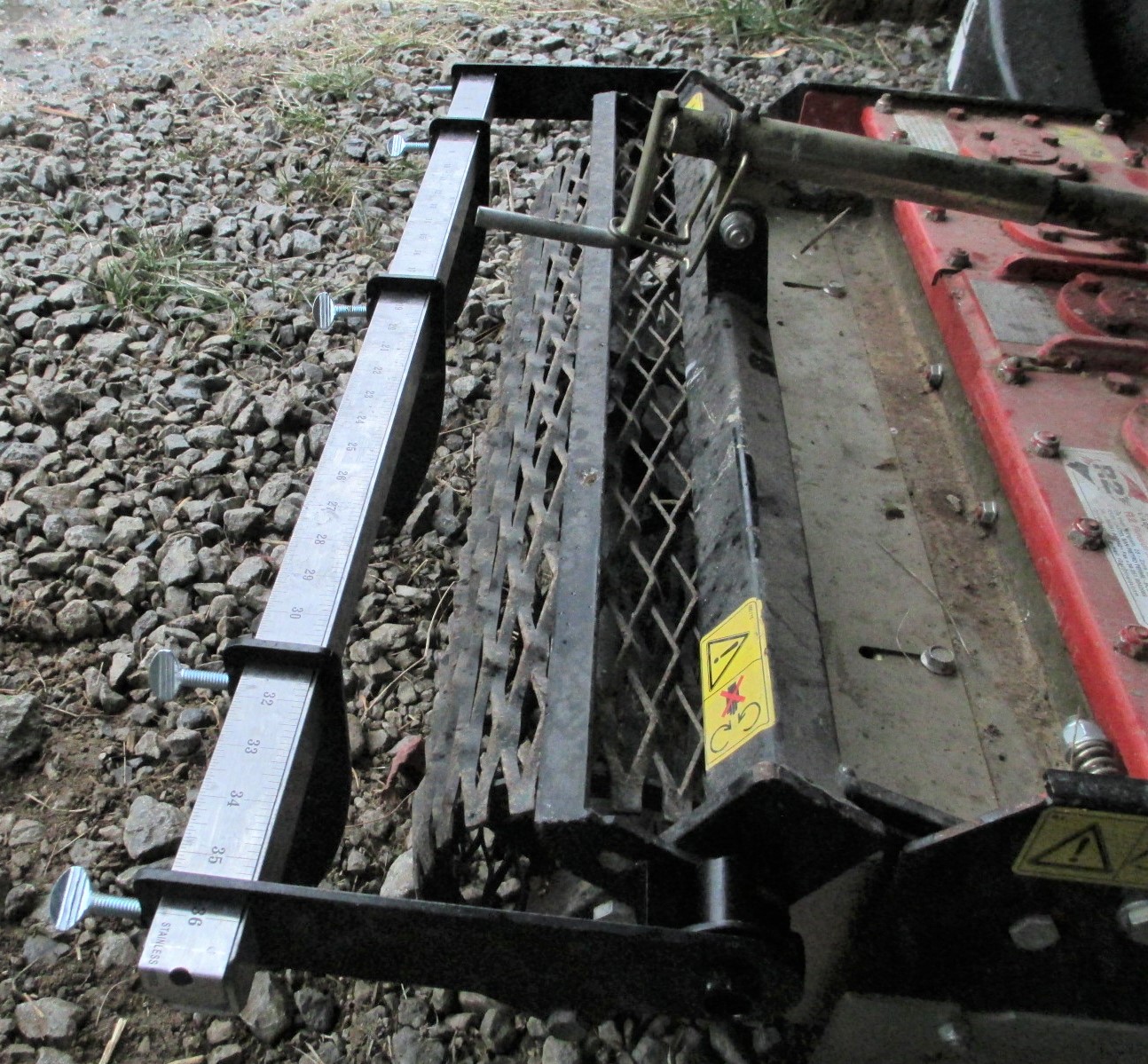 Row-marker "down" for marking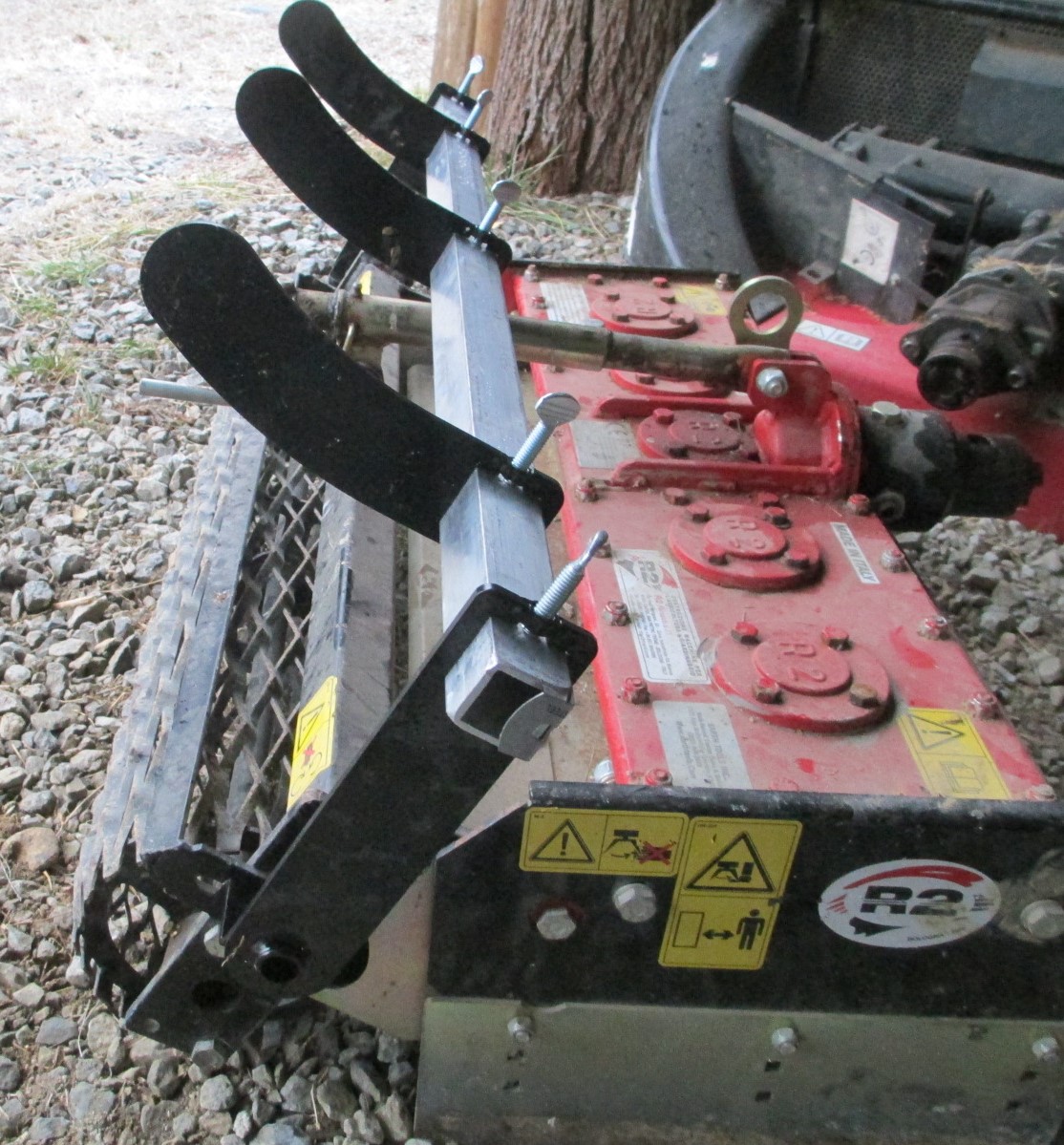 Row-marker "up" for turning, etc.
---
Row-Marker FRAME (does not include individual markers) to fit R2 Rinaldi EL75 30" Power Harrow - Item #ET ROW MARKER FRAME-H - MSRP: $105 $90
Row-Marker FRAME (does not include individual markers) to fit Earth Tools TDS roller system (which would be installed behind a BCS or Grillo 30" Tiller) - Item #ET ROW MARKER FRAME - MSRP: $85 $70
MARKERS for above Row-Marker frame - Frame will accept up to 6 (Item ET ROW MARKER) $18 $16
---
"RISER" KIT FOR CUTTER (Sickle" BAR MOWERS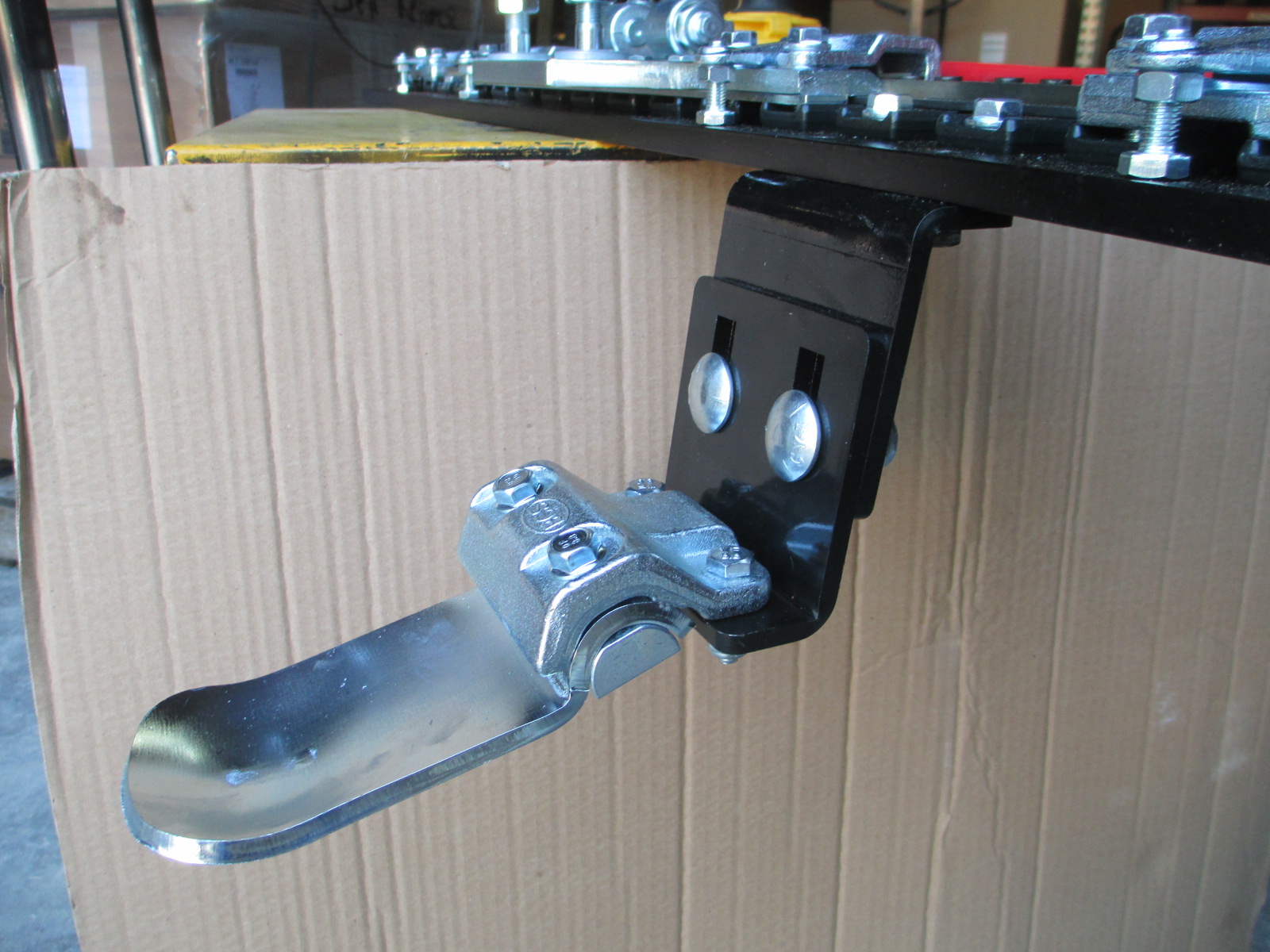 "Riser" option for cutter bar skids
This kit fits all current BCS-brand (and the Grillo brand GREASE-GEARBOX single-action cutter bars), and most of the older BCS cutter bars as well. Raises cutting height to 4" to 7", depending on how adjusted. Depending on the particular cutter bar type, skid type (there are 3 different skid styles used over the years), and desired cutting height, the "Risers" may mount on the TOP OR the BOTTOM of the cutter bar frame. The pictures show them mounted on the bottom.) The Risers have 3 positions to mount the upper half of the bracket to the lower half, plus you have the adjustment built into the skids already.
ET 0160 Riser kit (for cutting heights of 4" to 7") Includes Riser brackets for 2 skids…[Does NOT include the skids themselves; those come with the cutter bar already]: $89 $75
---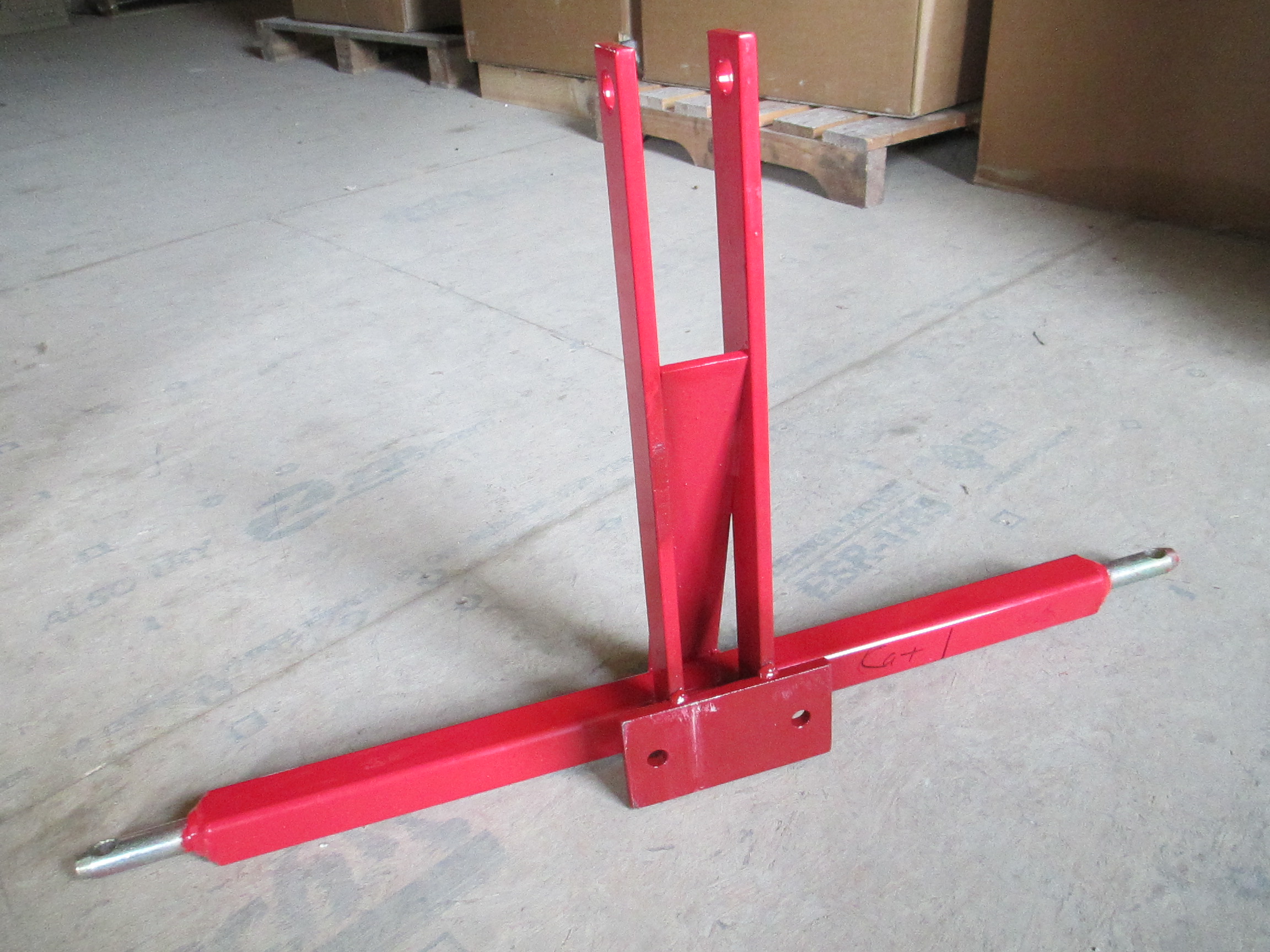 ET 1006 3-point hitch adapter
Item ET 1006: MSRP: $165 $150
This adapter allows many of our Non-PTO-Driven implements (such as plastic mulch layers, cultivators, bedshaper, etc.) to be adapted to a small 4-wheel tractor with a Category 1, 3-point hitch. Does not include any hitch pins. NOTE: since our implements are designed for use with a walk-behind tractor, the extra weight and traction of a 4-wheel tractor COULD potentially damage the implement. Therefore, attaching any of our implements to a 4-wheel tractor VOIDS the implement warranty.