Gulland Forge Broadfork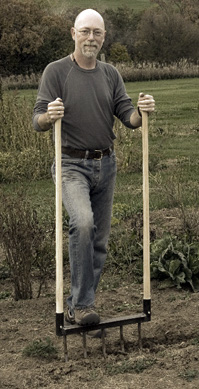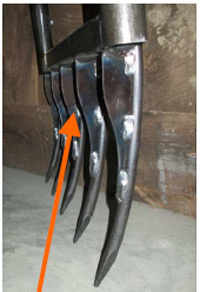 Reinforcement Gussets on Gulland
Broadforks (Big Bertha pictured)
Broadforks are an old Northern European tool that have recently come to prominence again as an excellent option for soil aeration/loosening, WITHOUT soil inversion OR lots of labor. They are intended to be used on garden soils that have previously been worked, such as "last year's garden", and Broadforking is typically done first thing in the Spring, as soon as the ground can be worked. However, many folks find they work very well for harvest as well, for root crops such as potatoes, carrots, etc.
We are pleased to have forged (pun intended) a partnership with Larry Cooper, owner of Gulland Forge, producer of these completely hand-made broadforks, which we feel are the finest on the market. They are unique in that the five round tines are forged to a continuous curve and have symmetrical forged points, both of which aid greatly in reducing friction during penetration into the soil. Tennessee-made Ash handles are affixed with stainless-steel lag bolts in large diameter round sockets…no having to "wedge" the handles in place, like on lesser Broadforks. We tested these tools in our clay soils against the Johnny's™ Broadforks, and we found the Gulland forks to be tougher and superior in design. (The Johnny's™ fork had bent tines within an hour's work…the Gulland fork is still working today, over 10 years later!!) NOTE: Johnny's™ claims 10.5" tines, but this is a misrepresentation…their tines only protrude about 9" below their frame, which means only 9" of soil penetration…the same as our Standard model. The addition of Reinforcement Gussets to our Broadforks means that even in super-heavy soils with roots or rocks, the tines will resist bending.
PLEASE NOTE: A Broadfork is NOT a substitute for a "digging bar" or a pickaxe or mattock…if you are performing Initial Tillage [breaking sod] on heavy soils, or have large rocks/roots to pry out, a Broadfork is not the correct tool for immediate full-depth penetration. The Gusseted Broadforks can be used for Initial tillage, but it is recommended to only go to half-depth on the first "pass", then go to full depth on a second "pass" over the bed.)
Testimonial from one of our customers for the Gulland Forge broadforks:
"We love our Gulland Forge broadfork that we purchased from Earth Tools! It has stood the test of time from when we first purchased it in 2014 to lift carrots on our Blasdell channery loam. We also use this fork for primary tillage in our established high tunnel beds. This tool has taken a lot of weather and use and it is still going strong! Last year we purchased 2 Johnny's® brand broadforks to expand the number of people who can be lifting roots or performing primary tillage at once, but unfortunately the tines bent on both of them within the first week of use. We are excited to be returning to Earth tools to purchase 2 new Gulland broadforks which we know will perform well in our tough, rocky soil. Thanks, Earth Tools!
-Lauren at Ironwood Farm, Women-owned farm in Ghent, NY
For some videos on the proper use of these tools, check out Gulland Forge's YouTube channel: https://www.youtube.com/user/GullandForge
2 MODELS AVAILABLE:
"Standard with Gussets" (not pictured)
Overall height: 57"
Overall Width: 21", Tine Width: 17.5"
True Tine Length (below frame): 9"
Weight: 16 lbs (Gusseted tines for extra strength)
Item BF 16
$235.00
---
"Big Bertha"
Overall height: 60"
Overall Width: 22.5", Tine Width: 18.5"
True Tine Length (below frame): 11.25"
Weight: 19 lbs (Gusseted tines for extra strength)
Item BF 18
$255.00
---
53543 - HEAVY SHW 3-Tine "Swing Fork"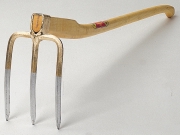 This tool is also listed on our SHW Forks & Cultivators page, but it fits into this category, so it deserves a mention here too. Intended for heavy soil-breaking work…very much like a Broadfork or Digging Fork that you SWING rather than push or thrust into the soil. Forged head with 9" tines. Ash handle is curved for excellent comfort and ergonomics, PLUS the handle & head are both gusseted at the top for maximum strength. One customer praised this tool as "The best thing he's ever dug potatoes with!"
Head: 7.5" wide x 9" long"
Length: 48"
Weight: 5 lbs
Head shipped dis-mounted from handle
$75.00
---
Ammann Digging Fork (Switzerland)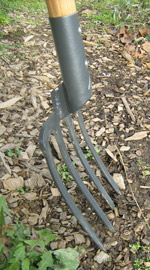 Extremely unique design: the head is offset an inch behind the handle, for better tool ergonomics. This really does make it more comfortable to use! Tempered steel tines, nice long handle with oversized T-Grip at top that you can get two hands on. This is the strongest digging fork we have, due to the "I-bean" style attachment of the handle socket to the fork itself (the weak point in most digging forks!)
Length: 51"
Head: 7.5" x 11.5"
Weight: 5 lbs
Item EU1570
$74.00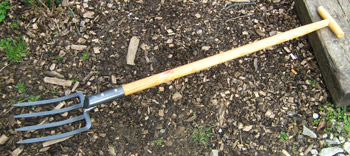 ---
Spear-Head Spades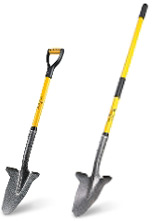 These American-made shovels are unique in that they offer a narrow head for easy penetration, and a WIDE step, so the effort required for using these shovels is very low. Tempered High-carbon/Manganese steel heads, reinforced fiberglass handles with a UV-inhibitor for long life. VERY popular for women, because of their light weight and ease of use!
SH Spade-D (with D-grip handle)
Head Length: 11"
Head Width: (widest point BELOW step): 6"
Total Width (Including Steps): 9"
41" long, weight 3.4 lbs.
COLORS MAY VARY!!
$48.00
SH Spade-L (long straight handle)
Head Length: 11"
Head Width: (widest point BELOW step): 6"
Total Width (Including Steps): 9"
59" long, weight 3.8 lbs.
$50.00