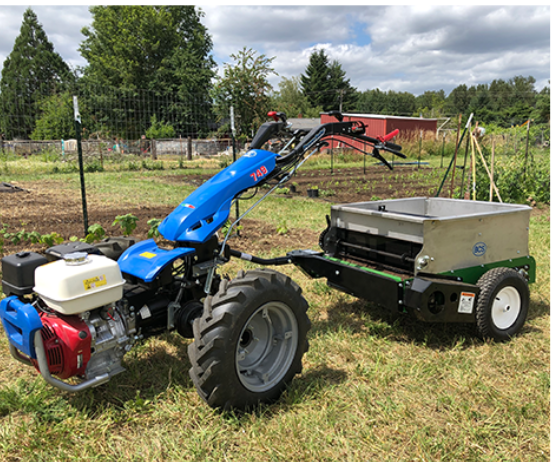 This implement is manufactured by Earth & Turf company from PA, and sold through the BCS America dealer network. This spreader features a 6.5 cubic foot capacity, roughly 30" spreading width, galvanized side-panels and a heavy-duty rubber conveyor belt. The unit has 6-inch ground clearance and the distance between the spreader wheels is 36", so it can effectively straddle raised beds if they are not built too high (4" - 5" maximum bed height).
The conveyor/agitator is driven by the wheels of the spreader via a roller chain, and the output "gate" in the front (yes, this spreader spreads at the FRONT) is adjustable in 13 setting ranging from 1/8" to 1" thick bed coverage. There is also a control on the spreader to disengage the drive wheels from the agitator/conveyor, so it won't continue to spread while transporting the machine.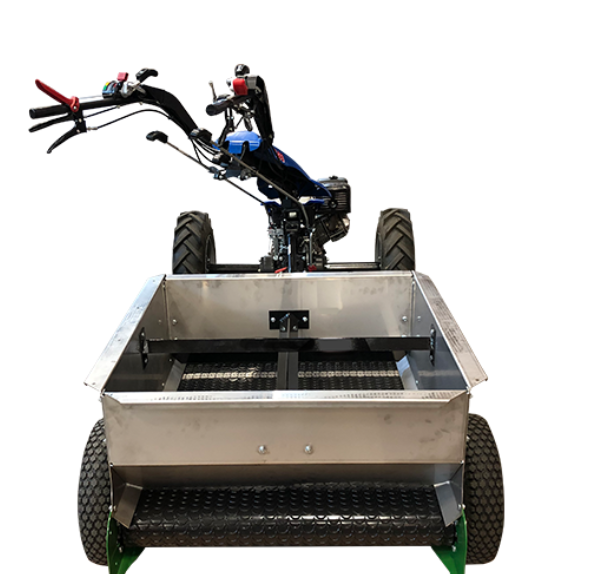 At the time of this writing (August 13 2019), we do not have stock at Earth Tools for this item yet…BCS America advertises them as being "available in August 2019", but at present we are still waiting. Once they arrive here, we will evaluate the practicality of adding modifications to increase capacity and increase ground clearance. (We see online that on "test" units, some folks have also added a "seat" of sort up on top…in our opinion, if a buyer wants to do this, that is their prerogative, but this is not a modification we will be offering from Earth Tools, due to liability issues.)
This seeder will fit BCS and Grillo brand walk-behind tractors with differential-drive axle and minimum of 5x10x20" wheels (wheel weights on the tractor may be required for extra traction in some conditions). The TOW COUPLER accessory is required to connect to the walk-behind tractor…see below for a list of tow couplers and the tractors they fit.
---
Accepting Pre-Orders Now!
---
BCS / Earth & Turf Compost/Manure Spreader
Item 921.065PT: MSRP: $1897 $1800
Standard Hopper capacity: 6.5 cubic feet
Requires minimum 5x10x20" wheel size on tractor (larger wheels OK too)
Fits BCS 732 - 948, Grillo G85d - G131 with appropriate tow coupler below
Requires appropriate Tow Coupler to attach to tractor tow hitch:
Tow coupler 922.59500 (fits BCS 732 & 739 and older model 735): $67 $64
Tow coupler 922.47720 (fits BCS 749, 750, 852, 853 and older models 737, 745, 945, 946, 948 and some 605): $67 $64
Tow coupler 9F4212 (fits Grillo G85d, G107 & G110): $67 $64
Tow coupler 9F4712 (fits Grillo G85d, G107 & G110): $79 $70